Article from: www.thenewspaper.com/news/15/1535.asp


1/5/2007
Ohio: Police Pocketed Parking Ticket Payments
A Hudson, Ohio police dispatcher is arrested for stealing parking ticket payments.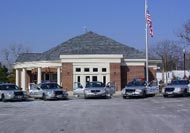 At least a dozen motorists who used cash to pay their parking tickets to Hudson, Ohio police have been ripped off. Police dispatcher Russell D. McCormick, 37, was arrested yesterday for allegedly stealing $1400 in motorist payments over two years.

The scheme unraveled last week when a man outraged over an unjust $5 parking ticket came to the department to contest the citation. Hudson Police Lieutenant Kevin May became suspicious when he could not find any record that the man had ever paid his fine in cash.

"I knew when the gentleman said that he paid a ticket we couldn't find, something was wrong," May said.

May later found evidence that suggested McCormick taking the cash payments, but altering the citations so that they appeared to be warnings and not tickets to avoid detection. McCormick faces felony theft charges.