Article from: www.thenewspaper.com/news/21/2163.asp


1/8/2008
Ticket Cameras Rammed, Burned, Bent Worldwide
This week red light and speed cameras suffered ramming, bending and burning attacks in Georgia, the UK and Australia.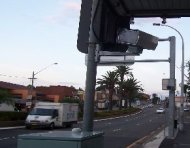 Over the past two weeks, red light and speed cameras have come under attack in the US, UK and Australia. A speed camera in Oxford, England was set on fire around 10pm on Sunday. The device had issued £60 (US $120) tickets in the 50 MPH zone on the A420 at Cumnor. Thames Valley Police are investigating, according to the Oxford Mail.

Also on Sunday, a Savannah, Georgia red light camera located at the intersection of DeRenne Avenue and Abercorn Street failed to prevent a collision between itself and an automobile. The city is anxious to have the machine back in action by the end of the week, according to WTOC-TV. An attack in Guildford, Western Australia -- a suburb of Perth -- was more clearly deliberate. Police accuse a 35-year-old with reversing over a speed camera after being involved in an accident with another car on the Great Eastern Highway on Christmas Eve. He faces a number of charges before Midland Magistrates Court this month, the West Australian newspaper reported,

Another speed camera's flash unit in New South Wales found itself bent out of shape earlier this week. According to a man who warns fellow motorists about deceptive speed camera traps in the area, "some one had been using the flash unit to do chin ups and bent it out of shape." The so-called School Zone Santa uses large, professionally printed signs to remind motorists when lowered school zone speed limits are in effect as the local government has placed the required warning signs in locations where they are least likely to be noticed.