Article from: www.thenewspaper.com/news/31/3194.asp


7/8/2010
Houston, Texas Expects Referendum On Red Light Cameras
Houston, Texas likely to become the largest city to date to vote on banning red light cameras.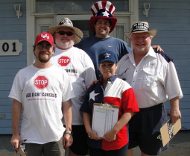 Residents of America's fourth largest city will likely have the chance to vote to banish red light cameras on November 2. Houston, Texas joins three other cities where a referendum on automated enforcement is virtually assured a place on the ballot. The city council in Anaheim, California and a grassroots effort in Baytown, Texas and Mukilteo, Washington succeeded in meeting the requirements to let voters decide. Other signature gathering efforts continue nationwide.

"The story from Houston is that we've reached our number, but we're going to continue to collect signatures because we fully expect the opposition to spend at least half-a-million dollars to try to knock off private citizen signatures one-by-one," campaign manager Philip Owens told TheNewspaper. "They do not want the people to vote... They know once it's on the ballot, they're going to have to spend a whole lot more."

Placing a measure on the city ballot requires 22,000 valid signatures. The Citizens Against Red Light Cameras effort, led by the brothers Paul and Randy Kubosh, will spend the remaining few weeks to push their total over the top to thwart any challenge. The Houston group's highly organized effort used a combination of mass mailing and pavement pounding to get the word out.

"Collecting petitions the old-fashioned way in this heat is tough," Owens said. "We're getting very, very positive response door-to-door... I can't think of anybody who supports the cameras other than the people being paid by the camera company right now."

American Traffic Solutions (ATS), the private company that operates the red light cameras in return for a cut of the profit generated, has already poured millions into an advertising and lobbying blitz in a desperate attempt to keep the program alive. ATS retained the high-dollar Begala-McGrath public relations firm to create the appearance of a "grassroots" presence in support of automated enforcement. The same effort in College Station failed, despite the firm's use of paid, out-of-town employees brought in by bus to appear on street corners to support camera use as if they were residents. So far, photo enforcement has never survived a public vote. With the Houston battle taking place in a major media market, the referendum is certain to generate interest around the country.

"This is going to be that start, the other side of the mountain, where they start to lose their influence," Owens predicted. "We've gotten phone calls from Louisiana, California and elsewhere in Texas."