Article from: www.thenewspaper.com/news/42/4212.asp


9/20/2013
French Study Investigates Danger Of Speed Limit Fixation
Researchers in France found the use of speed limiters could increase driving hazards.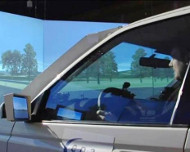 In jurisdictions with automated speed enforcement, cruise control can save drivers from receiving a nasty surprise in the mail. A study released July 30 from the Vinci Autoroutes Foundation concluded that this reliance on cruise control can actually make driving more dangerous.

Researchers at the University of Strasbourg's Centre d'Investigations Neurocognitives et Neurophysiologiques placed a group of 90 test subjects in a driving simulator. The individuals were split into young, middle age, and elderly groups with an equal number of men and women. Each performed a series of tests along a 75 mile simulated highway drive. The tests were repeated in different sessions with no electronic aids, with cruise control and with a speed limiter.

Data from the experiment show that drivers using cruise control tended to stay in the fast line too long when overtaking slower cars. They would also ride between five and ten percent closer to the bumpers of vehicles before and after making a pass. When using a speed control devices, the driver moves the steering wheel less often, but the steering corrections tended to be about one-third sharper when using cruise control. Reaction times decreased by one second, adding 25 feet to the braking distance at 80 MPH.

The test used a subjective measure of drowsiness called the Karolinska Sleepiness Scale and an objective electroencephalogram to determine that younger drivers had significantly reduced attentiveness when using cruise control. After an hour of driving with cruise control, the onset of drowsiness was 25 percent more likely.

"More generally, this study shows the need for the driver to master the use of driving aids, which may, by automating control of the vehicle, deprive the driver of part of his or her attention and control capacity," the study's author, Professor Andre Dufour, said. "The driver must remain in control of the vehicle and responsible for his or her driving under all circumstances."

These findings are consistent with those of the late Paul Smith, founder of the Safe Speed road safety campaign, who calculated that each time a driver looked down to check his speedometer in a 200 yard speed camera zone -- each glance takes about 1.1 seconds -- he loses 13 percent of the time available to observe the road for hazards. The UK Department for Transport lists driver inattention as the cause of 25 percent of accidents.

"We believe that speed limiters that 'know' the speed limit are probably the most dangerous idea around in modern road safety," Smith had written. "Such limiters take no account of the mechanisms by which accidents are avoided, and the net effect of wide installation would be extremely dangerous. We'd have a nation of... zombie drivers."