Article from: www.thenewspaper.com/news/47/4725.asp


6/18/2015
Arkansas Speed Trap Town Slapped With Federal Lawsuit
Class action lawsuit seeks damages from speed trap town of Concord, Arkansas.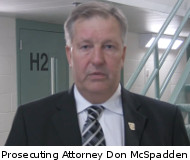 The tiny town of Concord, Arkansas is receiving big attention for its enthusiastic enforcement of speed limits on Arkansas Highway 25. Aggrieved motorists last week used evidence from state officials declaring the town a speed trap to launch a class action lawsuit.

"As you know I have been receiving complaints about the Concord town marshal's abuse of power for about two years from citizens of Concord, citizens of Cleburne County residing outside of Concord and citizens residing outside of this state," state prosecuting attorney Don McSpadden wrote in a November 6, 2013 letter to the mayor. "Your most recent dockets contain pure money making citations for violations."

An Arkansas State Police investigation concluded that the town received 38 percent of its income from traffic citations, far in excess of the 30 percent allowed under state law. The state suspended the town's ability to issue speeding tickets as a result.

"Should we determine that the marshal's office is willing to operate as a law enforcement agency and not solely as a revenue producing agency this sanction may be lifted," McSpadden explained.

Motorists who fell into this speed trap are now asking a federal judge to order compensation for losses incurred as a consequence of the unlawful stops. Anthony Molina, the lead plaintiff, was arrested on a drug charge based solely on evidence uncovered during a traffic stop, but county circuit court Judge Dan Kemp tossed his case "with prejudice" to ensure it could never be re-filed. Judge Kemp found that Concord's town marshal had been illegally appointed to his position, rendering his actions illegal. According to court records, up to two out of every three drivers were being charged with "no tag light" as the pretext for a traffic stop.

"As a direct and proximate result of the town of Concord's operation of a 'speed trap' in violation of Arkansas law, plaintiff Molina and members of the class were subjected to unreasonable searches and seizures in violation of the Fourth Amendment of the United States of America and, in addition, members of the class suffered ascertainable out-of-pocket losses in the form of fines and penalties assessed by the city," Molina's lawyer wrote. "Plaintiff and members of the class seek refunds of all fines and penalties assessed by the city and all further equitable and injunctive relief as provided by applicable law."