Article from: www.thenewspaper.com/news/48/4811.asp


10/15/2015
Feds To Spend Gas Tax Money To Increase Congestion
Federal Highway Administration loosens regulations to encourage road diets and bicycle paths to slash space used by motorists.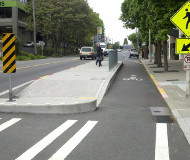 Local jurisdictions are increasingly enthusiastic about new trends in road design that include placing obstacles in the road to "slow down" traffic. The plans often involve taking road space away from automobiles for use as dedicated bicycle paths and pedestrian walkways. These localities are now being encouraged by the Federal Highway Administration (FHWA), which last week announced regulations that would increase congestion by allowing federal gas tax dollars to be spent creating "lower-speed roads."

"This proposed policy change will give states and communities the opportunity to be more innovative in designing their local projects," Transportation Secretary Anthony Foxx said in a statement announcing sweeping changes to road design regulations.

Under existing rules, traffic engineers must meet thirteen specific criteria regarding design speed, lane width, shoulder width, bridge width, horizontal curve radius, superelevation, vertical alignment (a factor important for headlight visibility at night), grade, stopping sight distance, cross slope, vertical clearance (which keeps trucks from hitting overpasses), horizontal clearance, and structural capacity. These factors must fall within specific minimum and maximum values to ensure safe travel.

The new rule would drop several of the criteria to allow the narrowing of lanes on bridges and allow the intentional placement of obstacles near highway and freeway lanes. For roads with speed limits under 50 MPH, only design speed and structural capacity requirements would remain.

"Engineers can use professional judgment to determine appropriate lane widths and facilities to accommodate pedestrians, bicyclists, bus stops, or landscaping for more livable communities, without needing approval from FHWA," the agency explained. "This will enable planners and engineers to more easily design roadways in ways that enhance their community."

The agency is taking public comment on the rule change through December 7. FHWA also announced updated guidance designed to encourage bicycling using federal gas tax dollars.

"Federal funds may be used for road diets, which are generally described as removing vehicle lanes from a roadway and reallocating the extra space for other uses or traveling modes, such as parking, sidewalks, bicycle lanes, transit use, turn lanes, medians or pedestrian refuge islands," the agency explained. "The FHWA supports consideration of road diets or rightsizing when applied at the proper location."