5/11/2005
CA Supreme Court Delivers Blow to Red Light Cameras
The California Supreme Court upheld a lower court ruling forcing cities to implement a 30-day waiting period for each red light camera.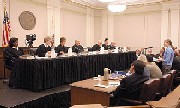 The California Supreme Court today upheld a lower court ruling (full text) forcing cities to implement a 30-day warning period for each red light camera they install. In a filing to the high court, a representative for the League of California Cities argued that none of the 66 cities operating cameras in the state has interpreted the law in this way, assuming the warning period only applied to the first cameras installed, not to subsequent installations.

The decision could set the stage for court challenges throughout the state asking for refunds from cameras that have been improperly issuing tickets for months or years. Some cities may even drop their programs entirely.

"The trial court's ruling, if allowed to stand... might force Long Beach to abandon what has been a successful program to date," the City of Long Beach argued before the Supreme Court made its final determination.

The City of Costa Mesa has already refunded 779 citations, and it will now have to refund that of Thomas Fischetti whose case the high court declined to review today. Fischetti received a $321 ticket in the mail for being 0.6 seconds into the red on a left-hand turn while following a semi truck. He was unable to see the signal in time. An appeals court judge ruled that Costa Mesa violated the state code by failing to provide 30-days notice for that intersection as required by the law. It also found the city improperly allowed another agency to control and set signal timing.

Additional court filings and details on the case.