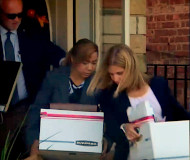 10/17/2019

Illinois Red Light Cameras Are A Billion-Dollar Enterprise
Illinois Policy Institute research found red light cameras have generated $1 billion in Illinois since 2008.


The Illinois Policy Institute on Monday released a report documenting the rise of red light cameras as a billion-dollar enterprise in Illinois. The non-partisan watchdog group issued freedom of information requests to collect financial data from each of the ninety municipalities that allow private companies to issue automated citations in the Land of Lincoln.
Between 2008 and July 2019, red light camera contractors in these jurisdictions collected a total of $1,096,149,523 in revenue. Chicago ...




---