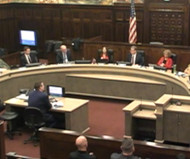 7/3/2020

Cedar Rapids, Iowa Loses $1.2 Million Speed Camera Lawsuit
Settlement agreement refunds $1.2 million illegally collected from speed camera ticket recipients in Cedar Rapids, Iowa.


Motorists who were mailed speed camera tickets in Cedar Rapids, Iowa, will be receiving a small refund. Linn County District Judge Ian K. Thornhill last week accepted the class action lawsuit terms that the city voluntarily agreed to with motorists' attorney James C. Larew.
Larew represented radio talk show host Simon Conway in fighting for the refund of 36,452 old, unpaid citations that the city's for-profit vendor, Municipal Collections of America, collected using highly controversial metho ...




---