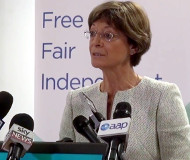 4/18/2019

Australia: Government Report Slams Erroneous Speed Camera Punishments
Victoria, Australia ombudsman report documents 397 cases where improper handling of photo tickets cost innocent drivers their license.


At least 397 motorists in Victoria, Australia, lost their right to drive because the state government bungled the handling of speed camera fines. In a report released Wednesday, Victoria Ombudsman Deborah Glass blasted Fines Victoria, the agency responsible for overseeing the handling of citations. The report reviewed 605 complaints from members of the public about how this year-old state agency handled their situations.
"Many complaints were about delay in the processing of nominations, comp ...




---