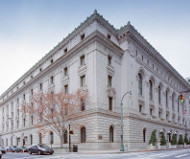 7/19/2019

Federal Appeals Court Rescues Red Light Camera Lawsuit
Eleventh Circuit US Court of Appeals revives challenge to Alabama red light cameras under state law while rejecting federal claims.


A lawsuit challenging the red light camera program in Alabama should not have been thrown out by a lower court judge. The Eleventh Circuit US Court of Appeals on Thursday sent the case back to the trial court to rule on state law issues after the three-judge appellate panel rejected all of the claims made under federal law.
Alabama has no statewide law that authorizes the use of red light cameras or speed cameras. Instead, Brantley, Center Point, Midfield, Montgomery, Opelika, Phenix City, Se ...




---