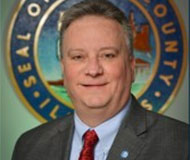 2/19/2020

Illinois: Red Light Camera Salesman Busted By Feds
Federal prosecutors rack up second indictment in suburban Illinois red light camera bribery scandal.


A federal grand jury in Illinois last week indicted a senior Cook County staff member who moonlighted as a red light camera salesman. Patrick J. Doherty, the chief of staff to Cook County Commissioner Jeff Tobolski, bribed an unnamed Oak Lawn trustee on behalf of the red light camera vendor Safespeed, according to the indictment.
"Patrick J. Doherty used and caused to be used a facility in interstate commerce, namely a cellular telephone and an associated communications network, with intent t ...




---