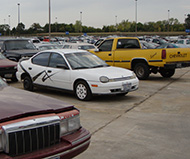 6/22/2018

Kansas City, Missouri Under Fire For Predatory Towing
Lawsuit accuses Kansas City, Missouri of towing legally parked cars for profit.


A motorist whose car was wrongly towed in Kansas City, Missouri, is calling for reform. Dyanna Black and the American Civil Liberties Union (ACLU) launched a federal lawsuit challenging the lack of due process found in city impounding procedures that require payment of massive fees for the return of cars that should never have been seized in the first place.
On February 2, 2016, Black legally parked her car on 16th Street near Wyandotte Street, but when she returned some time later, the car w ...




---