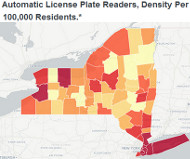 5/26/2017

New York High Court Upholds License Plate Scanning
New York Court of Appeals takes up plate reading case for the first time to grant law enforcement unlimited ability to scan vehicles.


Throughout New York state, police agencies have for years been using automated license plate readers (ALPR, also known as ANPR in Europe) without the sanction of the legislature or the courts. Earlier this month, the New York Court of Appeals -- the state's highest court -- took up the question for the first time and sided with the use of plates to track members of the public, even if they are not suspected of committing any crime.
The town of Rhinebeck, for example, has a population of just ...




---