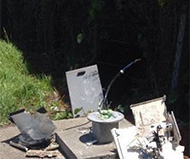 6/27/2016

France, Germany: Speed Cameras Bugged, Burned
Vigilantes and insects teamed up to disable speed cameras throughout Germany and France last week.


In Schwerte, Germany, a beetle crawled through the vents of a speed camera on Tuesday and caused a short circuit. According to a news release from Unna district officials, the automated ticketing machine on the B236 began flashing every passing motorist, regardless of speed. Officials insisted no fines would be issued from the device until it is repaired. In Memmingen, a vigilante threw an ax into the hood of a speed camera car on Friday evening as the vehicle sat on the side of Allgauer Strase ...




---