11/1/2007
All-Time Most Popular Stories on TheNewspaper
A look at the top-ten most read stories on the site, updated January 2013.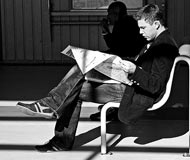 The following ten items represent the all-time most viewed stories on TheNewspaper.com.
Michigan: Police Search Cell Phones During Traffic Stops
The Michigan State Police acquired technology that allows police officers to download information from smart phones belonging to stopped motorists, a troubling precedent giving the willingness of courts to allow warrantless searches of electronic devices during a traffic stop.


St. Louis, Missouri Traffic Stop Videos
The video of an out-of-control police officer screaming at motorist Brett Darrow during traffic stop drew headlines across the country. Our coverage began with the story and video of the stop with follow-up stories about how area police continued to harass the young motorist, and even threaten him, over the publicity. This was not the first time we covered a Darrow video. In 2006, we reported on a DUI roadblock video where police similarly admitted they would "find a reason to lock you up."


Virginia Introduces $3550 Speeding Ticket
TheNewspaper helped bring attention to the Virginia legislature's move "to generate revenue" by imposing a mandatory $1050 tax, on top of an existing $2500 maximum fine, on anyone driving 15 MPH over the state's top speed limit of 65. This became a top campaign issue in the state for 2007, and the law was completely repealed.


Federal Appeals Court: Driving With Money is a Crime
In 2006, a federal appeals court ruled that merely driving with a large amount of cash was sufficient evidence for police to seize the money, even if there was no evidence that a crime had even been committed.


California: Stop Sign Cameras Installed on Canyon Roads
TheNewspaper was first to report that a little-known government agency in Los Angeles, California installed the country's first stop sign camera (as opposed to a red light camera) to issue automated tickets for "boulevard stops."


Virginia: Unknown Traffic Violation Carries $2500 Fine
The state of Virginia also imposed $2500 maximum fines for so-called "move over" violations. The state police admitted in a news release that nearly three-quarters of the public had no idea that this was even an offense.


California: Police Raid Car Enthusiast Gathering, Generate Revenue
Riverside, California cops descended on a parking lot to issue "modified car" tickets at local car enthusiast gathering.


Poland: Man Uses Speed Camera to Power Neighborhood
It took more than a year to find a man who hacked into a nearby speed camera to provide power to two neighborhood houses in Mragowo, Poland.


Indiana: City Threatens $2500 Fines for Challenging Traffic Tickets
A lawyer sued the traffic and parking courts in Indianapolis, Indiana over threatened $2500 penalty for contesting a ticket in court.


Austin, Texas Explores Photo Parking Snitch Tickets
City council in Austin, Texas considers allowing residents to issue handicap space parking tickets to other drivers with an iPhone app.