5/9/2008
Missouri: Red Light Camera Mayor Freed
St. Peters, Missouri mayor who solicited a red light camera bribe from Redflex is released from federal prison after serving one year.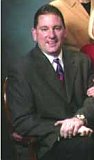 The former mayor of St. Peters, Missouri was released into supervised custody last month after spending a year in prison on felony bribery charges. Shawn Brown, 36, received an eighteen month sentence after pleading guilty in October 2006 to soliciting a bribe from red light camera vendor Redflex. A Federal Bureau of Investigation (FBI) sting caught him demanding $2750 from the Australian company in return for his approval of a lucrative photo enforcement ordinance (read indictment).

Brown has transfered to Dismas House, a community release center in Saint Louis that contracts with the federal Bureau of Prisons. The program allows prisoners, primarily drug addicts, to be gradually released back into society with an emphasis on rehabilitation and job training. Participants can hold outside jobs and spend increasing amounts of time unsupervised on the way toward home confinement before discharge. Brown's final release is scheduled for August 1.

Since April 2007, Brown had served time in the Federal Prison Camp in Duluth, Minnesota. The minimum security facility featured dormitory housing, relatively few prison guards and no perimeter fencing. Brown could enjoy as many as eight three-hour visits from friends and family each month. The facility had a gym and a theater that showed current movies once a week. He also had access to recreational activities that included tennis, football and art classes.

Although Redflex cooperated fully with authorities in this case, rival vendor Affiliated Computer Services has been accused of acting on the wrong side of the law. The company had faced trial in Edmonton, Canada for bribing police officers to land a lucrative photo enforcement contract.