1/31/2009
Missouri, Mississippi Bills Would Ban Photo Tickets
Legislation introduced in Missouri and Mississippi would prohibit the use of photo enforcement statewide.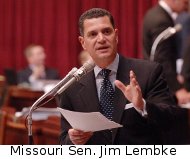 Legislators in Mississippi and Missouri want to rid their respective states of the private companies looking for lucrative contracts to operate automated ticketing machines. Photo ticketing firms have been trying to gain a foothold in Mississippi, but so far have failed. In Missouri, however, high-powered lobbyists were brought in to convince local authorities to install camera systems without authorization from the state legislature. The city of Arnold began issuing tickets in 2005 and was soon followed by nearly forty cities with an interest in installing automated ticketing machines.

That was too much for newly elected state Senator Jim Lembke (R-St. Louis), who said one of his top legislative priorities upon taking office was banning red light cameras.

"These red light cameras are being used as revenue enhancers within municipalities
and profit out-of-state companies," Lembke said in a statement. "The cameras can't prove who's driving the vehicle, and many people argue this method of traffic enforcement disregards a person's Fifth Amendment rights and forces self-incrimination. This is an example of big government and Big Brother at its worst."

Lembke's measure, Senate Bill 211 ( view bill, 250k PDF) is a straightforward prohibition that leaves no room for the use of automated ticketing machines anywhere in Missouri. A group of seven Mississippi lawmakers signed on to a similar bill that includes a ban on speed cameras.

"Neither the board of supervisors of any county nor the governing authority of any municipality shall adopt, enact or enforce any ordinance authorizing the use of automated recording equipment or system to enforce compliance with traffic signals, traffic speeds or other traffic laws, rules or regulations on any public street, road or highway within this state or to impose or collect any civil or criminal fine, fee or penalty for any such violation," Senate Bill 2743 states ( view bill, 75k PDF).

The bipartisan measure is sponsored by state Senators Nickey Browning (D-Calhoun), Tommy Dickerson (D-George), Billy Hudson (R-Forrest), Chris McDaniel (R-Jones County), Haskins Montgomery (D-Jasper), Michael Watson (R-Jackson) and Lee Yancey (R-Madison).

Both the Mississippi and Missouri measures have been referred to their respective senate transportation committees for consideration.