5/2/2009
Florida Red Light Camera Push Narrowly Fails
Red light camera companies vulnerable to lawsuit after legislation offering retroactive protection fails in Florida legislature.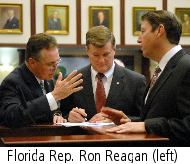 The Florida legislature ended its regular session yesterday without approving a bill to authorize the use of red light cameras statewide. An automated ticketing measure was approved 101-7 in the state House last Wednesday and a similar measure was approved 35-2 in the state Senate last night, but the two bodies were unable to reconcile differences by the session's close. Passage of the bill in the fourth most populous state had been one of the highest priorities of a photo enforcement industry not only interested in expanding business opportunities, but also desperate to head off the potential lawsuits that could force the
refund
of illegally issued citations, as happened in the state of Minnesota earlier this year.
"Legal opinions indicate that automated enforcement in the state of Florida remains illegal," photo ticketing giant Redflex Traffic Systems explained in an Australian Securities Exchange filing (