2/12/2010
New Mexico: Red Light Cameras Fail to Reduce Accidents
Accidents increase 18 percent nine months after red light cameras are installed in Las Cruces, New Mexico.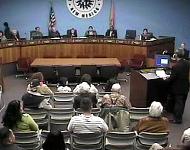 Photo enforcement may not be improving traffic safety in Las Cruces, New Mexico. According to preliminary data presented to the city council on Monday, the installation of red light cameras and speed cameras in March 2009 has thus far failed to produce any statistically significant reduction in accidents. The city's public works department, in close consultation with Redflex Traffic Systems, did try to argue that the numbers showed the program was worth keeping.

"Another positive outcome for red light cameras," Traffic Engineering Administrator Dan Soriano said. "The severity is dropping."

The raw data, on the other hand, tells a different story. The total number of accidents increased 18 percent from 39 collisions before cameras were installed to 46 after installation, while the number of injury accidents remained essentially the same. The city data only covered three of the four monitored intersections from March 2008 to December 2008, before cameras, in comparison to the same period a year later, after cameras. According to Soriano, the fourth intersection was excluded because of road construction.

A "severity index" was created to adjust the figures in a way that would make the photo enforcement program appear to create a safety improvement. The formula for this index assigned a weight of 10 to a fatal accident that took place at the intersection of Valley Drive and Avenida de Mesilla in 2008 involving two drunk drivers. There was no such accident the following year. Excluding the drunk driving collision from the calculation would have produced a negative result for the severity index at the locations where the automated ticketing machines were installed, even though the the severity index dropped throughout the city at intersections without cameras. Injury accidents were given a weight of three and property damage collisions were only scored one point, as the biggest increase in accidents involved rear end collisions. View city chart.

Although the traffic safety result was questionable, the program's financial results were clear. The city finance department estimated that the cameras would generate $5,012,847 in revenue through fiscal 2011. As a result, the city council decided to expand the program by adding two more red light cameras. The city also claims that it has the authority to seize the automobiles belonging to those accused of not paying an automated citation sent through the mail.

"That certainly gives us an opportunity to enhance those collections," city Comptroller Pat Degman explained.

The cameras installed issue both red light and speeding tickets, with seventy percent of citations going to speeding tickets.