8/9/2010
Anti-Red Light Camera Fight Heats Up in Texas
Houston and Baytown, Texas residents turn in signatures to force a November vote to ban red light cameras.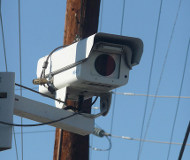 One million Texas voters are likely to be given the option of reducing the number of red light cameras in the state. Later today, activists in Houston plan to submit over 30,000 signatures -- more than is needed -- on a petition to place a photo enforcement ban on the November 2 ballot. In the nearby suburb of Baytown, organizers responded to a notice that a previously submitted petition had fallen short of the requirement by twelve names by turning in an overwhelming 747 more last week.

Only 22,000 valid signatures are required to bring a vote in the largest city in the Lone Star State. Brothers Paul and Randy Kubosh formed Citizens Against Red Light Cameras to organize the effort to kick out American Traffic Solutions (ATS), the private company that operates red light cameras in return for a cut of the profit generated. The group's campaign manager Philip Owens credited widespread dissatisfaction with city leaders for the success with the first step of the referendum process.

"The effort was able to take advantage of a high rate of voter interest and anger at the city's red light program," initiative campaign manager Philip Owens told TheNewspaper. "In some neighborhoods where we gathered signatures going door to door. We had a success rate of 90 percent -- meaning nine out of every ten contacts signed the petition. That's a staggering rate and shows this is a people-driven campaign."

The group now will focus its efforts on driving voter turnout in November and refuting the claims made by the paid spokesmen for ATS regarding the effect cameras have had on collision rates (view independent studies).

"The challenge now is to correct he misconception that the program is about safety," Owens said. "The opposition has tremendous financial resources at their disposal and they're not afraid to spend it. Houston is too large a piggy bank for ATS not to do whatever it takes to break open. It's about money pure and simple, and the city seems willing to risk driver safety for profit."

In Baytown, ATS is likewise working hard to fight its image as a company solely concerned with making money. A group funded by ATS and related contractors took out an advertisement in the local newspaper entitled "Open Letter to Fellow Baytonians" claiming that red light cameras "saved lives" and acted as a "force multiplier" for an overworked police force. It also claimed the initiative violated the state constitution.

"If passed, this petition would not only negate the use of intersection safety cameras," the ad stated. "It would also outlaw the use of police car 'dashboard cameras' and other police surveillance videos used to gather evidence and convict criminals.... Imagine someone committing a murder, or rape or armed robbery going free simply because a police officer did not personally observe the crime as this petition mandates?"

Baytown initiative sponsor Byron Schirmbeck said the ATS-funded advertisement has backfired in the community. Police in other cities such as Cincinnati, Ohio where the public has banned the use of photo enforcement have confirmed that they still use dashcams and their entire arsenal of surveillance equipment -- just not automated ticketing machines.

"People were especially irate at the fact that out-of-state corporations were funding 100 percent of the effort to keep us from having a vote," Schirmbeck told TheNewspaper. "The camera lawyers will most likely then shift to suing the city to stop the election which, I believe will alienate more voters for November."

Between the latest petition and an earlier run, about 3000 Baytown residents have signed on to let their displeasure with cameras be known. By comparison, Stephen H. DonCarlos was elected mayor with just 1894 votes in the 2006 election.