Related News
Tennessee Legislature Scales Back Future Speed Cameras
Tennessee Lawmakers Water Down Traffic Camera Ban
Texas: Red Light Camera Firm Makes Second Attempt To Block Vote
Ohio Judge Puts Freeze On Traffic Camera Limitation For Toledo
Ohio Supreme Court Takes Up Another Speed Camera Case
View Main Topics:

Subscribe via RSS or E-Mail
Back To Front Page
10/5/2010
Tennessee: Top Cop Luxury Vacation Paid By Speed Camera Company
Oak Ridge, Tennessee police chief stays at the Ritz on taxpayer time, expenses paid by Redflex.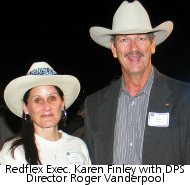 The police chief in Oak Ridge, Tennessee received an all-expense paid vacation in Arizona, while collecting his on-duty salary, in return for his providing testimony that helped save Redflex Traffic Systems from paying millions in possible damages. The Australian firm came under fire after it was caught falsely claiming on customs forms that the radar units it had imported were certified by the Federal Communications Commission (FCC). From 1998 to 2008, every time Redflex turned on a mobile photo radar unit, it violated federal law. When a rival firm, American Traffic Solutions (ATS), discovered this fact, it blew the whistle in a federal court case, the first round of which wrapped up in the spring.

ATS filed suit to claim that Redflex lied to about a dozen cities by offering its services without having properly certified radar units to fulfill the contracts it won. Redflex played dumb throughout the trial. Even though the United States represented the largest market for the company, Karen Finley, the head of North American operations, swore that no one at the firm had any idea that radar equipment required FCC certification to ensure that the transmitters would not, for example, create a potential safety hazard by interfering with air traffic control radar. It was all an "honest mistake," Finley insisted. The company did not know about the law and the radar they used, once certified, caused no problems with other devices in the electromagnetic spectrum.

For the jury to find Redflex guilty, however, it would have had to conclude that the cities that embraced the Australian company's cameras felt let down. Redflex kept an ace up its sleeve. In the city of Oak Ridge, for example, the devices issued an average of $200,000 worth of tickets each month. That made officials happy.

"I don't feel misled by Redflex in any way, shape or form," Oak Ridge Police Chief David Beams testified.

Beams spent a total of 38 minutes on the stand gushing about his positive experience with Redflex. For that, he received an all-expense paid vacation in Phoenix that included chauffeured rides from the airport, three nights in the Ritz-Carlton Hotel and prime rib dinners. Redflex picked up the tab for everything but his salary, which Oak Ridge taxpayers were paying because his stay was considered "official business."

Thanks to this testimony, the jury had little basis in the law for saying that ATS was entitled to $20 million in damages simply because Redflex violated the law. Redflex asked the federal judge to order ATS to pay $4,293,738 in court costs and attorneys' fees, but ATS has appealed and the squabble over the money is still pending. Financial concerns are at the heart of the ATS and Redflex dispute because that has always been the top priority of the companies involved. The chief executive of ATS, Jim Tuton, said as much in a videotaped deposition made in advance of the trial. Asked by ATS lawyer Randy J. McClanahan, "Obviously, when you got back into business as American Traffic Solutions, your intention was to make money?" Mr. Tuton responded with one word: "Yes."