3/18/2011
Missouri Groups Fight Back Against Traffic Camera Astroturf Campaign
Photo enforcement firm uses public relations firm to create illusion of grassroots support for automated ticketing.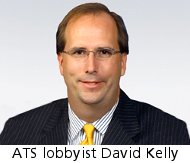 Grassroots anti-camera activists in Missouri yesterday charged that a photo enforcement firm was creating fake advocacy groups to promote the use of red light cameras and speed cameras. Wrong on Red and the Jefferson County Tea Party blasted American Traffic Solutions (ATS) for hiding its involvement in a slick advertising effort designed to persuade the legislature to allow photo ticketing to continue uninterrupted in the state.

"I think it's clear that ATS is afraid of us," John Burns of the Jefferson County Tea Party said in a statement. "ATS has good reason to fear us. We've been building a statewide grassroots effort to ban the cameras. People are mad as hell. We're in the middle of an economic recession, and these traffic cameras constitute a regressive tax, hurting the poorest among us, the most."

In March last year, the photo ticketing industry turned to the Washington, DC-based Storm King Strategies LLC, a lobbying firm that focuses on the transportation sector, for help. Storm King is headed by David Kelly, who was chief of staff of the National Highway Traffic Safety Administration during the latter half of the Bush administration. Kelly used funding from traffic camera firms to set up the Partnership for Advancing Road Safety (PARS) as a platform to gain media attention on the photo ticketing issue without disclosing that he was speaking on behalf of his clients.

The strategy backfired when Kelly testified June 30 before a meeting of the US House Transportation Subcommittee on Highways and Transit. The chairman at the time, Peter DeFazio (D-Oregon), and the ranking member, John J. Duncan (R-Tennessee), both dismissed his testimony as that of a hired gun, questioning why Redflex and ATS refused to appear before the committee openly. The PARS website, which was set up by the public relations firm APCO Worldwide, has been disabled.

ATS has replaced PARS with the National Coalition for Safer Roads, through which Storm King has conducted media interviews and created an advertising campaign to promote camera use in Missouri without identifying the group as a creation funded by the camera industry. Kelly's other current clients include the Coalition of Ignition Interlock Manufacturers which wants Congress to require installation of expensive breathalyzer devices installed in all cars, the National Safety Council which wants more ticketing through distracted driving laws, and Jaguar-Land Rover which wants lower CAFE standards. According to congressional lobbyist disclosure records, these clients have paid about $380,000 for Kelly's services. WrongOnRed founder Matt Hay doesn't think Kelly's effort will work.

"This is ATS' last frivolous attempt to fool the Missouri public," Hay said in a statement. "To fool residents just like they do thousands of times a day with the unauthorized systems they use to generate millions of dollars off Missouri taxpayers, while encouraging cities to help them profit off poorly engineered intersections and shortened yellows."