6/8/2011
California: Los Angeles Police Commission Votes Down Cameras
Police commission in Los Angeles, California unanimously votes to end red light camera ticketing.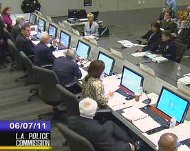 Red light cameras may disappear from the nation's second-largest city. The police commission in Los Angeles, California voted 5 to 0 yesterday to deny renewal of the city's photo enforcement contract with American Traffic Solutions (ATS). The decision is a stunning reversal for a program that has been in place for over a decade. Between 2004 and 2010, a private vendor has issued over 183,000 tickets worth more than $80 million. The problem is that the state's share of that revenue is so great that the city claims it is losing money from the cameras, even though tickets are $476 each.

"Given the fiscal health of the city at this point in time I really think it would be irresponsible for us to recommend a program that's going to add financial responsibilities to the city's huge fiscal crisis," Commission President John W. Mack said. "I don't see any way around the financial issues... This decision is not based on a lack of commitment to public safety. We have an outstanding police department. In this particular instance, this particular tool does not represent the way we should go."

According to the Los Angeles Police Department (LAPD) proposal, continuing the existing thirty-two red light camera intersections would generate 45,000 tickets worth $21.4 million. The city's share would be $3,643,552 out of which ATS would take $2,943,180 and LAPD estimated $1,170,900 in costs for salaries of seven police officers funded from the red light camera budget. This accounting method claims a $470,528 loss for the city. The rest of the profit would be distributed to various state funds.

Another commissioner noted that motorists are tossing their tickets, leading to even more revenue problems. Only 37 percent of photo tickets are paid on or before the due date, according to LAPD data.

"What we have here is truly a voluntary citation program," Commissioner Alan J. Skobin said. "It's voluntary because there's no teeth in it and there's no enforcement mechanism."

Commissioners Debra Wong Yang and Richard E. Drooyan expressed skepticism regarding the claims of city officials that the red light cameras have done anything to increase safety. Safer Streets LA Executive Director Jay Beeber is largely responsible for raising doubt in the minds of commissioners by offering detailed rebuttals of the claim that accidents were reduced where cameras were installed (view report).

"All I've seen is stuff that raises questions in my mind about the efficacy of the program," Drooyan said.

Eight members of the public attended the meeting to speak against the cameras. Three ATS employees, including CEO James Tuton, made desperate pleas to save the program.

"This program is about public safety," ATS spokesman Charles Territo said. "ATS California is headquartered here in Burbank. There's an office in Burbank you can visit."

Territo went on to offer a "cost neutral" contract that would ensure the city never lost money. The commission was not interested. One resident pointed to the motto on the wall of the commission chambers and urged the city not to extend the contract with ATS because of the Arizona company's questionable business practices.

"Up on your wall there it says 'Integrity in All We Say and Do," the editor of the Highwayrobbery.Net said. "In May, a newspaper up in Washington state found ATS was behind a bunch of comments that were in their newspaper. They were hiding behind these comments not revealing who they were, but posting comment after comment for the cameras. It didn't stop there... They also have a front group that they support, the National Coalition for Safer Roads and that front group puts out all kinds of stuff on the Internet, and they don't reveal that ATS is behind it."

Another resident pointed out that ATS seems to be the only winner in the camera program.

"Maybe they're just a fundraiser for the contractor," Christina Heller, a motorist from Hollywood, said. "I think that the fines are so insane is indicative of their real purpose."

The full city council can overrule the commission's decision if two-thirds of council members vote to take jurisdiction over the issue within five council days. Such a move may be unlikely.

"I'm sure ATS will lobby hard but I don't think there is the political will in the council to continue pushing this," Beeber told TheNewspaper.