8/18/2011
Washington Judge Issues $10,000 Ticket Against Red Light Camera Firm
Judge fines American Traffic Solutions for attempting to stop anti-camera vote in Bellingham, Washington.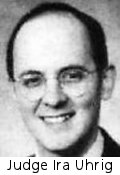 A Whatcom County, Washington Superior Court Judge yesterday threw the book at a photo enforcement firm for interfering with the right of the public to petition their government. Judge Ira Uhrig handed down from the bench a stinging rebuke to American Traffic Solutions (ATS). Uhrig found the firm's lawsuit to block an anti-traffic camera initiative from reaching the ballot in Bellingham violated state law, so he slapped the Arizona-based firm with a $10,000 fine and ordered it to pay the legal fees of the initiative's sponsors.

"This was the greatest repudiation of ATS by a judge I could ever imagine happening," initiative co-sponsor Tim Eyman told TheNewspaper. "It was huge. I've never seen anything like it."

Petitions to place a ban red light cameras and speed cameras before voters have been endorsed by residents in four Washington cities. Traffic camera vendors have fought back with lawsuits. Uhrig found the legal tactics used in Bellingham violated an anti-SLAPP law which prohibits "strategic lawsuits against public participation." These suits exploit the legal system to thwart petition drives.

Uhrig determined that ATS could not allege it would suffer any tangible harm from the measure being placed on the ballot, that the company had no standing to file the lawsuit and that the case was not ripe. ATS attorney Vanessa Soriano Power argued in papers filed with the court that the proposed initiative "involved administrative, and not legislative, matters." Administrative matters are not subject to the local initiative power. Since the item could not properly be approved by voters, Power argued it should not be included on the ballot. This is the opposite of what Power said in oral arguments before the Washington Supreme Court in May.

Power: There's a body of law that allows for pre-election challenges in certain instances at the local level. One, of course, is if there's an administrative issue, which we don't allege here.

Justice Debra Stephens: But you agree this is legislative?

Power: Correct, this is legislative.

Eyman believes the total loss for ATS in Bellingham will send a message to cities like Monroe that intend to pursue lawsuits to block anti-camera efforts.

"What is exciting is the ripple effect you're going to get from this ruling," Eyman said. "To find out now that you sue your own citizens and there are judges out there who will fine you for doing so, it's kinda nice. It has a magnificent deterrent effect when it comes to these obnoxious anti-vote lawsuits."

Not all judges agree with Uhrig. On Monday, a Cowlitz County Superior Court judge ruled against all but one section of an identical anti-camera initiative in Longview. The effect of the ruling is that a vote will be held in November on whether to put an advisory vote on the ballot in November 2012 on banning cameras. Judge Stephen Warning's ruling, however, is on less solid ground than Uhrig's. Last year, the state supreme court rejected an attempt to block the anti-camera referendum in Mukilteo. ATS has already said it will appeal Uhrig's verdict.

"The good news is their appeal is just increasing the attorneys fees for our guy who's eventually going to be awarded that stuff if it's upheld," Eyman said. "They're going to be hard pressed to not come up with the exact same outcome as Mukilteo."