12/25/2011
France, Italy, UK: Speed Cameras Rammed, Shot, Attacked
Vigilantes in England, France and Italy use a number of tactics to disable speed cameras.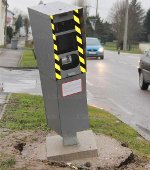 Vigilantes in Lincolnshire, England attacked a speed camera at around 3am, according to local police. The automated ticketing machine had been operating on Skellingthorpe Road. Officials have no suspects.

In Etain, France a speed camera was rammed at 3:15am on Tuesday, Est Republicain reported. Located at the entrance to the town, the device has become a popular target. It has been battered and spraypainted six times in the past six months.

In Isola di Caopo Rizzuto, Italy, vigilantes shot the speed camera on state road 106 last week. The exterior housing of the unit took several rounds from a .45 caliber pistol, but the interior workings were not damaged, according to Newz.it.