Related News
ATS Accused Of Discriminating Against The Disabled
US Supreme Court Weighs Need For Specialty Plates
2014 Year In Review
San Francisco, California To Vote On Anti-Motorist Bond Measure
Texas Asks US Supreme Court To Rule On License Plates
View Main Topics:

Subscribe via RSS or E-Mail
Back To Front Page
8/2/2012
Georgia Voters Reject $18 Billion Transportation Tax
Ballot measure to increase sales tax to fund mix of transit projects and minor road improvements loses big in Georgia.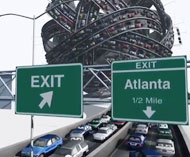 Voters in Georgia sent a message to the transportation bureaucracy yesterday shooting down a plan that would raise taxes for the purpose of supporting the usual mix of projects. The "Transportation Special Purpose Local Option Sales Tax" (T-SPLOST) was rejected by 61 percent statewide, despite a multi-million-dollar media blitz backed by public officials and special interest groups urging passage.

The measure would have raised the sales tax by one percent, generating $18 billion in revenue over ten years. A twenty-five percent slice (fifteen percent in Atlanta) of the amount collected would have been handed over to county and municipal governments according to a distribution formula, with the remainder allocated to projects divided into twelve regions. According to the slick television commercials promoting the package, the initiative was to result in "less traffic, more jobs." Advertisements showed entirely new roads being built to relieve city congestion, but actual project lists show the majority of revenue was set aside for transit projects.

In Atlanta, for example, the tax was supposed to have generated $8.5 billion. Money labeled as "roadway capital" was to be spent not on new highway capacity but on "interchange improvements" that reroute traffic. Millions more would be spent on traffic signal optimization, new turn lanes and bridge refurbishment.

A coalition of special interest groups called the Citizens for Transportation Mobility spent $5,987,629, as of July 23, on the media campaign to drive support for the tax. Tea Party activists took the lead in opposing the initiative with very little funding. They argued the program would spend big money on projects that would do nothing to alleviate congestion. They derided the emphasis on funding bicycle paths.

"We're not talking about narrow dirt trails cut into the woods somewhere," the Georgia Tea Party explained to members in advance of the vote. "These 'paths' are ten-foot wide, concrete thoroughfares stretching for miles. When completed, you probably will be able to count the daily walkers and bikers on one hand."

The deal would spend $128 million to bail out existing bus services in Atlanta. Another $436 million would build a streetcar line downtown. Clayton County would have received $100 million for bus service. The Tea Party argued even the purported road-widening projects were not meant to relieve congestion.

"Consider the eleven mile stretch of highway 140 in Cherokee County that will be widened to four lanes," the Tea Party group wrote. "The additional two lanes and one bridge will cost you $190 million dollars. That's about $140 million more than the national average for the same construction elsewhere. The purpose for the widening is even more preposterous. It is to provide access to (yes, you guessed it) a transit station that's still to be built."

Out of the twelve regions that voted on the proposal, the measure passed in three: the Heart of Georgia Altamaha District, Central Savannah River Area District and the River Valley District.