3/7/2013
Hayward, California Dumps Redflex And Red Light Cameras
Police chief convinces Hayward, California to end red light camera use.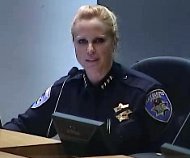 Redflex Traffic Systems is losing another customer. On Tuesday, Hayward, California's city council voted 6-1 to end the use of red light cameras at the earliest possible opportunity, joining thirty-four other California cities that have decided to abandon automated ticketing. Hayward's decision comes at a time when the Australian-based company is reeling from investigations of its involvement in bribery schemes in Chicago, Illinois and two other cities.

Between 2008 and 2012, Redflex issued 14,536 tickets worth $489 each in Hayward. Of these, 59 percent went not to motorists running through a red light, but to those who made a rolling right-hand turn. When motorists brought their complaints about the system to court, judges threw out the ticket 57 percent of the time. Police Chief Diane E. Urban took these factors into account in recommending elimination of the program, but she gave particular attention to the failure of the cameras to reduce accidents.

"Rear end accidents increase significantly because people come to a screeching halt," Urban said. "There's no proven correlation between red light camera systems and consistently decreasing crashes."

In five out of eight Hayward intersections, rear enders increased. B Street and Second Street saw the largest spike, a 75 percent jump. Urban believes engineering alternatives to cameras can help. At Winton and Hesperian, the yellow signal timing increased from 3.8 to 4.0 seconds, and at B and 2nd, it went from 3.2 to 3.5 seconds.

"It's been six weeks or so that the yellow light has been increased," Urban said. "We expect this will make a positive difference."

Urban also wants to redeploy the two community service officers dedicated to the camera program. They each earn $107,748 in salary and benefits, and Urban believes their time could be better spent on community-oriented policing.

"That personal approach, that ability to really make a difference by having that personal contact, it's immeasurable," Urban said. "And I think people find it a lot more palatable... rather than receive something in the mail weeks after it happened. Because ultimately the idea is to change behavior.

Urban raised concern that Redflex would charge at least $108,000 if the council attempted to end its camera contract immediately. In a report filed with the council, Safer Streets LA Executive Director Jay Beeber calculated the city would actually pocket $151,748 in profit if it terminated the contract by June 30.

"Once Hayward Council accepted that there is no provable safety benefit they became much easier to convince to 'get out now' -- sooner rather than later," local activist Roger Jones told TheNewspaper.