8/9/2013
Third Maryland Jurisdiction Forced To Refund Illegal Tickets
More than 4000 illegally issued tickets to be refunded in Waldorf, Maryland.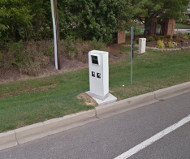 Add Charles County to the rapidly growing list of Maryland localities that have been forced to refund illegally issued photo radar citations. On July 31, the sheriff's office announced a speed camera in Waldforf has been operating outside of school zone, in violation of state law.

"As a result of this discovery, the Charles County Sheriff's Office shut down all speed cameras in order to conduct a thorough evaluation of the entire automated speed enforcement camera program," the sheriff explained in statement.

A private vendor has been operating three cameras in Charles County since August 2012. These camera housings are now empty because the State Highway Administration noticed that the automated ticketing machine located on Berry Road had been posted 275 feet before the school zone for Daniel of Saint Thomas Jenifer Elementary School begins. The state agency notified the sheriff who agreed to cancel and around 4000 tickets, refunding any fines that have been paid because ticketing site did not meet legal standards.

"The Maryland Annotated Code allows School Zones to be established within a one-half mile radius of any school," the State Highway Administration explained. "However, this does not mean that all roadways within a one-half mile radius should be a school zone."

Charles County joins Greenbelt and Hagerstown, which have recently been forced to refund illegally issued citations. Salisbury is likely to be next on the list, forced to refund tickets because it has been caught by the Maryland Drivers Alliance allowing Brekford to operate a speed camera program under a per-ticket compensation contract. A refund is also likely in Laurel.

The photo ticketing setback in Charles County will take a serious chunk out of the $2,013,000 revenue the county expected to generate by allowing the contractor to issue 35,000 tickets.

"For fiscal year 2014, fines and forfeitures are expected to increase by 52 percent primarily due to the second year of the expanded speed camera program," the county's 2014 budget explains.