12/10/2013
Sacramento, California To Shorten Red Light Camera Ticket Timing
Board of supervisors in Sacramento County, California to vote on renewing controversial red light camera ticket contract with Redflex.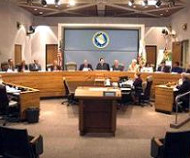 The Sacramento County, California Board of Supervisors will vote Tuesday on a plan to boost the number of $500 red light camera tickets issued at intersections. County officials quietly changed the wording of its memorandum of understanding with Redflex Traffic Systems, the Australian company in charge of the program, so that the camera flash would trigger in half the time. Under the new proposal, the Redflex camera will issue a ticket 0.1 second after the signal changes -- faster than the blink of an eye. Local activists are crying foul.

"Cities regularly set the yellow light times at or near the minimums required," Fremont resident Roger Jones wrote in urging the board to reject the proposal. "Data from virtually every photo enforced intersection in every jurisdiction show that when the yellow lights are thus set, that over half of violations occur in the first half-second."

Given the number of tickets that can be issued in a split-second, the county seeks to improve upon the $9.7 million worth of tickets issued in the last twelve months. The board will vote on locking in the $5 million contract with Redflex through the end of 2016 with the option for additional one-year renewals through 2020.

To win the deal, Redflex underbid American Traffic Solutions (ATS) by twenty-five percent. They overcame concerns that the firm's history of bribery made it untrustworthy. ATS responded by filing a formal bid protest.

"The county also failed to disqualify Redflex, or otherwise consider in the risk assessment evaluation process, for publicly available adverse information concerning Redflex's admission that it colluded in a public bidding process relating to the very types of services requested in the request for proposals," ATS attorney Bryan L. Hawkins wrote. "While ATS is in no way attempting to smear or otherwise harm Redflex's reputation, the aforementioned facts objectively demonstrate that Redflex should not have received the same 'risk' score as ATS, who has never been the subject of bribery allegations, much less released multiple statements confirming the truth of such allegations."

Top Redflex officials heavily lobbied the county so that they would maintain the contract. The effort proved successful.

"There is no indication whatsoever that any bribery, corruption, or unethical behavior has occurred with Redflex Traffic Systems in Sacramento County," Sheriff Scott R. Jones wrote in a memo to the board. "Furthermore, we are satisfied with the steps Redflex Traffic Systems has taken to avert this type of unethical behavior in the future."

The vote is scheduled for 2pm.