1/17/2014
Canada: Town Residents Petition To Ban Photo Radar
Town council in Morinville, Canada will decide whether to ban photo radar or allow citizens to vote on the issue.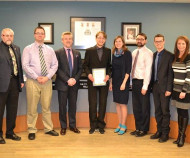 In the United States, residents in twenty-five cities have taken action to ban red light cameras and speed cameras (view list). The same fervor has spread across the border to Canada where residents in Morinville succeeded in gathering 900 signatures on a citizen initiative to ban automated ticketing machines. The council on Tuesday gave a first reading to the proposal, potentially setting up the first-ever direct vote on photo enforcement in Canada.

"[We demand] a new bylaw to have all traffic enforcement done by either RCMP or the community peace officers, thus eliminating the use of photo radar or red light camera enforcement," the petition submitted by resident Cliff Haryett stated.

Under the law, once a valid petition is submitted, the council has thirty days either to adopt the proposed bylaw or put it on the next available ballot so that the voters can decide what to do. Haryett submitted the petition on November 15, but Alberta Minister of Municipal Affairs Ken Hughes had granted the council an extension until January 14.

The council now will decide on January 28 whether it will vote to adopt the proposed camera ban on second reading and third reading combined, or whether it will call an election before April 14. The council intends to make its decision after weighing the legal and financial implications of the proposal.

"Morinville will ensure that all traffic enforcement shall be done by a peace officer authorized to work within the corporate boundaries of Morinville," the council's bylaw reads. "Morinville and any agents of Morinville responsible for traffic enforcement are prohibited from the use of photo radar equipment or red light camera equipment."

Though it would be the first vote of its kind, opposition to photo radar is long-standing in Canada. In 2011, the council in Strathcona County became the second Canadian jurisdiction to reject photo ticketing. A decade earlier, Liberal Party leader Gordon Campbell campaigned in the province of British Columbia on a promise to ban speed cameras. When election day arrived, voters threw out the incumbent NDP party and handed Campbell 77 out of 79 seats in the provincial legislature.