3/7/2014
California Cops Arrested Over Impounding Scam
King City, California cops plead not guilty to a car impound scheme.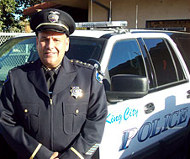 King City, California's former police chief went before a judge with two of his fellow officers Thursday to plead not guily in a car impounding scheme that saw a total of six officers charged with various crimes including embezzlement and bribery. The scandal has rocked the coastal California town of 13,000, especially members of the Hispanic community who found themselves targeted and raised the alarm in meetings last summer.

"As we were investigating various crimes, we began to hear... people saying, 'They take our property; they take our money; they take our cars,'" Monterey County District Attorney Dean D. Flippo said in announcing the charges last week. "We began to receive information, and as we worked on it, investigated it, we made a conclusion that there was an organized scheme where people driving vehicles, they had in general no license, were being stopped and the vehicles were impounded."

According to Flippo, officers used their authority to seize vehicles from low-income motorists who were unable to afford the hefty towing fees, storage fees and fines. When they did not pay, Miller's Towing was called in to take the car to the local impound lot. In total, about two hundred cars were grabbed, and the officers would help themselves to the choicest vehicles.

"The investigation revealed a significant lack of leadership within the King City Police Department," Flippo said. "Most disturbing was that evidence was uncovered of a scheme whereby people participating in the scheme would receive free vehicles that had been impounded by officers within the department."

Brian Miller, owner of Miller's Towing, was charged with bribery. He is the brother of acting chief Bruce Miller, who was charged with accepting a bribe and conspiracy. Former Chief Dominic David Baldiviez and Mario Alonso Mottu Sr were charged with embezzlement. Officer Mark Allen Baker was charged with criminal threats. Officer Jaime Andrade was charged with illegal possession of an assault weapon. Brian Albert Miller of Miller's Towing was charged with conspiracy and bribery.

"You can imagine this was a shock and a disappointment," King City Mayor Robert Cullen said.

The penalty for offering a bribe in California is up to four years in prison. The penalty for taking a bribe is the same, plus a fine equal to double the amount of the bribe. Officials who convicted of accepting a bribe are also barred from holding any government job within the state.