6/27/2014
Judge Agrees Virginia Camera Tickets Are Invalid
Virginia judge strikes down red light camera ticket, but governor blocks courts from setting precedent.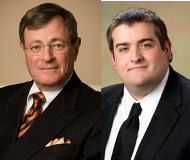 Nearly any red light camera ticket issued in Virginia can be automatically dismissed in court because cities are not following the law. Last month, Newport News District Court Presiding Judge Gary A. Mills saw he had no choice but to dismiss the case against Edward D. David, the managing partner of the David, Kamp and Frank law firm because the city failed to provide a court date in a timely manner, as required.

"If a locality does not execute a summons for a violation of this section within 10 business days, all information collected pertaining to that suspected violation shall be purged within two business days," Virginia Code Section 15.2-968.1 states.

A summons to court must contain a court date, something not found on the "notice of violation" sent with a red light camera ticket in Virginia. A court date is only provided in a supplementary mailing if a vehicle owner challenges the automated citation, and the ten-day clock starts on the date of the alleged violation. Judge Mills did his best to find a reading of the statute that would preserve the local photo ticketing program.

"He really tried," explained Alex West, who represented David in court. "He was pulling out his books and saying, 'It's just semantics isn't it?' I convinced him that, no, it's really not. It says 'summons' right there in the law, the General Assembly put the word summons in there for a reason."

Despite the win, ticket recipients who wish to defend themselves in court cannot take advantage of the decision because no precedent may ever be set on a red light camera case. In Virginia, district courts are not courts of record so there is no transcript or written ruling that can be cited as precedent. Virginia Governor Terry McAuliffe (D) in April vetoed a measure that would have allowed red light camera tickets to be contested in circuit court, where decisions would have precedential value.

Under current law, there is no way to challenge the facts of an automated ticketing case to the state Supreme Court or Court of Appeals. The only way to have the matter heard in circuit court is to make a constitutional argument, but Virginia makes constitutional cases unlikely to succeed.

"They get thrown out off the bat because they're civil infractions," West said. "There's little to no constitutional protections when it's a civil fine."