7/2/2014
North Carolina Sheriff To Stand Trial For Harassing Hispanic Motorists
Alamance County, North Carolina Sheriff Terry S. Johnson faces trial over alleged discrimination against Hispanic drivers.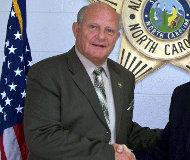 Trial preparations are underway for the Alamance County, North Carolina sheriff who allegedly ordered his deputies to stop and arrest motorists who appeared to be Hispanic. The US Justice Department brought the charges against Terry S. Johnson after interviewing more than 125 victims and personnel over the course of several years. The investigation found that drivers who were Hispanic were being pulled over at an alarming rate for minor traffic infractions.

"A Latino driver in Alamance County is as much as ten times more likely than a similarly situated non-Latino driver to be stopped by an ACSO deputy for committing a traffic infraction," the Justice Department argues.

Sheriff Johnson is also accused of ordering roadblocks in Hispanic neighborhoods where minority drivers were delayed while white motorists were waved through. Statements from deputies present during staff meetings and internal emails are being used to build the case establishing a pattern of discrimination.

"If you stop a Mexican, don't write a citation, arrest him," Sheriff Johnson reportedly said during a 2008 staff meeting with supervisors.

Federal prosecutors will also argue that the culture in the sheriff's office was seen in what happened on the streets. In 2010, a Hispanic woman was pulled over and showed a valid North Carolina driver's license to the deputy.

"You stole it," the deputy reportedly said. "The woman in the picture is pretty and you're ugly. We're going to deport you."

Sheriff Johnson insists it is all a misunderstanding. Lieutenant Chris Crain is expected to testify that the statements his boss made at the meetings were taken out of context.

"There had been reports of car break-ins and vandalism in a mobile home park by a Mexican gang," the sheriff's lawyer, Karlene S. Turrentine, told the court on Friday. "The sheriff upon hearing that Mexican gang members were committing the crimes, instructed his two officers, 'Well, then, go get them Mexicans.' Lt. Crain understood the sheriff to mean, 'to go get the people that were responsible for the crimes.'"

The defense will also attack the credibility of the Justice Department's expert witnesses and their study that identified motorists as Hispanic based solely on their appearance or the name on the tickets. Doing so accurately, Sheriff Johnson's lawyers say, is "virtually impossible."

US District Judge Thomas D. Schroeder ruled on June 20 a trial was needed to determine the truth.

"When the evidence is viewed in the light most favorable to the government, as it must be at this stage, the record supports claims of a pattern or practice of unconstitutional behavior occurring through 2013," Judge Schroeder ruled. "It is clear that the government has presented evidence which, if credited, demonstrates both disparate impact and discriminatory intent, but there are genuine disputes over material facts."

The county has 123 sworn officers and 147 civilian employees.