7/6/2014
Arizona, Germany, Italy: Speed Cameras Attacked
Vigilantes disable speed cameras in the United States and Europe.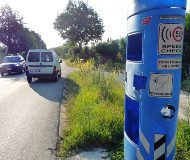 Vigilantes in Montecchio Precalcino, Italy disabled a speed camera last week Sunday. Vicenza Today reports the device was ripped out of the ground, causing 4000 euros (US $5440) in damage to the automated ticketing machine. In San Ginesio, vigilantes set fire to a speed camera on Tuesday. According to Cronache Maceratesi, the "Speed Check" machine on the Provinciale 77 in Macchie was disabled.

In Ochtrup, Germany a traffic camera on the Landstrasse 510 was nearly destroyed last week Saturday. Police in Steinfurt reported gasoline was poured over the device and set on fire. Officials have no idea who might be responsible.

In Phoenix Arizona, vigilantes slashed the tire of a photo radar van on Tuesday, according to the Arizona Republic.