7/23/2014
Texas Motorist Wins $77,500 After Traffic Cops Steal Cash
Estelline, Texas settles with innocent, elderly motorist who had her cash seized during a traffic stop.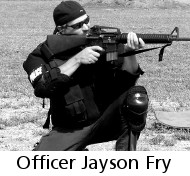 Police in Estelline, Texas are sorry they ever pulled over Laura Dutton. The 64-year-old woman was stopped on November 28, 2012 as she was returning from a trip to Amarillo on US Highway 287. Police Officer Jayson Fry, the city's lone officer, was manning a speed trap a few feet away from the sign marking the speed limit drop when she passed through Estelline.

Officer Fry says she was doing 61 MPH in a 50 MPH zone. He pulled her over, issued a ticket and asked if he could search her truck. She refused.

Officer Fry said he "smelled marijuana" so a drug dog was called in, and when the K-9 arrived thirty minutes later, it alerted. Dutton had no drugs, but she was carrying $31,000 in cash, the bills wrapped up as they had come fresh from the bank. She had recently earned the sum from the sale of 12.9 acres of land in Van Zandt County.

Despite the explanation, Officer Fry grabbed the cash and arrested Dutton, who had no criminal record of any kind, for "money laundering." Officer Fry handed the money over to Estelline City Manager Richard Ferguson.

Two months after the money had been taken from her, the charges were finally dropped and $29,640 returned to Dutton. In addition to the $1400 stolen from her by the city, Dutton was out $1050 in fees she had to pay to get out of jail the day after her arrest. She was never reimbursed for the travel expenses she incurred to get her money back.

Dutton decided to fight with a federal lawsuit challenging the city of Estelline for setting up a government almost entirely funded by speed traps. In 2012, speeding tickets generated 90 percent of the municipal budget. She argued that the marching orders for its officer was "go out there and get me some money" through the use of seizures.

When Dutton complained about the stolen money, the city did not investigate and all video tapes related to the arrest and the deposit of the money were "not saved." US District Judge Mary Lou Robinson reviewed the evidence and last month denied Officer Fry's assertion of immunity. She prepared the case to go to trial.

"There is sufficient evidence in this record for a jury to return a verdict in plaintiff's favor on her unconstitutionally prolonged detention/wrongful arrest/wrongful seizure claim," Judge Robinson wrote. "No reasonable officer would have arrested a suspect solely because his drug dog, certified or not, hit upon drug odors or drug residue on circulated cash."

Realizing there was no chance of surviving before a jury, Officer Fry's lawyers decided to settle the case last week for $77,500.