9/28/2014
France, Italy, Saudi Arabia: Speed Cameras Scorched, Shot, Spraypainted
At least seven speed cameras in France, Italy and Saudi Arabia were disabled or destroyed last week.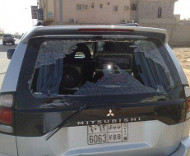 Vigilantes in Ahad Rafidah, Saudi Arabia shot a speed camera van last week Sunday, Al Riyadh reported. The Mitsubishi Nativa's rear window was smashed by gunfire. Police have no suspects.

Vigilantes in Modena, Italy damaged a speed camera on Thursday by setting it on fire. According to Gazetta di Modena, the exterior of the automated ticketing machine on the Nuova Estense in Santa Maria di Mugnano was scorched, but the camera equipment inside remains functional.

Vigilantes in Berd'huis, France burned a speed camera on Thursday, Ouest France reported. After midnight, trash was piled under the camera on the RD955 and set on fire. In Plaintel, the camera on the RD700 towards Loudec was burned on Wednesday using tires, according to Ouest France. In Loire, Le Progres reports that three speed camera were spraypainted. The device on the RN88 was painted green along with the tunnel roundabout camera. The final unit on the RD8 was painted blue.