9/30/2014
Texas, New Jersey Motorists Respond To Polls
Texans do not like tolls and New Jersey residents think red light cameras are an unfair money grab.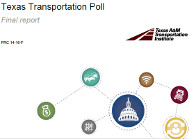 Motorists sent mixed messages to pollsters about New Jersey's red light cameras and a very clear rebuke to the proliferation of toll roads in Texas. The Texas Transportation Institute released the results of its survey of 5153 registered voters on Thursday, inviting respondents to discuss the best strategies for reducing congestion.

The survey found that 91 percent of Texans rely on an automobile as their primary means of transportation. Only 6 percent use public transportation, and one percent use a bicycle or walk to work. In all regions of the state, the majority of Texans do not believe public transit is a viable or convenient option.

"While majority agreement was not attained when political affiliation was taken into account, a higher proportion of Democrats agreed that alternate modes were an effective means of reducing congestion," the researchers noted.

To address congestion, respondents wanted better traffic signal timing, better accident management and the construction of more lanes on state roads. At the very bottom of the list of acceptable solutions were toll roads and new carpool lanes.

"Building more toll roads was, by far, the least supported strategy," the report found. "The lack of support held true in both metropolitan areas and rural areas, as well as areas with and without toll roads."

Results were less clear in the Monmouth University/Asbury Park Press Poll on red light cameras in New Jersey, released Monday. A plurality of 44 percent told the pollsters that they approved of the use of intersection cameras, but their full views were more nuanced.

Sixty-three percent of registered voters said towns using cameras were primarily concerned with raising money and 61 percent said it was unfair to send a ticket to a vehicle owner even when he was not driving. The poll found no differences among age groups or regions in the state. Support for cameras was 10 points higher among Democrats and 20 points higher among females.

Eighteen percent of the 602 New Jersey residents polled were undecided about the use of red light cameras. When voters are pushed to make a choice for or against cameras in the election booth, red light cameras lose nine out of every ten times. Twenty-six cities have voted to ban the use of photo ticketing by margins of up to 86 percent against.