10/5/2014
France, Germany, Italy, UK: Speed Cameras Disabled and Destroyed
Vigilantes destroy or disable more than a dozen speed cameras throughout Europe last week.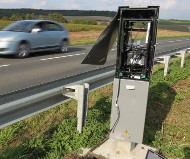 A speed camera in St. Restitut, France was set on fire yesterday. According to Le Dauphine, the automated ticketing machine had just been installed three days earlier on the D59. On Monday, a speed camera failed to prevent an accident with a big-rig truck in Bassussarry. According to Sud Ouest, the truck slammed into the automated ticketing machine and spilled diesel fuel onto the road. In Pau, five of the city's seven speed cameras have been disabled, La Republique des Pyrenees reported. The camera at the intersection of Avenue Alfred Nobel and the Boulevard of Peace had its lenses smashed to pieces. Paint was used to disable the remaining devices at the Avenue Jean-Mermoz, Rue Jean-Geneze, Boulevard Alsace-Lorraine and Rue d'Etigny.

In Toulon, officials discovered on Tuesday that an ant colony made a new home in a speed camera on the A57 near the Leo Lagrange stadium, causing 20,000 euros (US $25,0000) in damage to the automated ticketing machine. The same thing happened previously to the camera on the A570, Var Martin reported. In Saint-Gratien on Monday, a speed camera on the RD919 was completely gutted with a sledgehammer, Courrier Picard reported. In Rolleboise, vigilantes used red spraypaint to cover the lenses of the speed camera on the D113 on Thursday, according to Le Parisien

In Verona, Italy, vigilantes knocked over a speed camera for the second time on Tuesday. According to Verona Sera, the bright orange "VeloOK" automated ticketing machine was ripped out of the ground and tossed to the side of the street, repeating what had happened at the same location in mid-September.

In Trier, Germany, vigilantes disabled a speed camera on the Lowenbreckener Strasse on Wednesday, the Trierischer Volksfreund reported. The device was also set up to issue automated tickets to vehicles passing for having a noisy exhaust, but the pole-mounted radar unit was twisted so that it failed to produce usable readings.

Vigilantes torched a speed camera in Essex, England on Monday. The Essex Echo reported that firefighters responded to the scene on High Street in Hockley at around 1:20am.