11/5/2014
Arizona, Ohio, Missouri Jurisdictions Reject Photo Enforcement
Photo enforcement industry faces its biggest single-day losses at the ballot box in three cities and a county.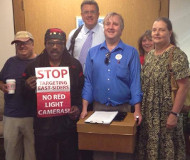 Voters in four jurisdictions were emphatic Tuesday in sending the message to local politicians that they do not want speed cameras or red light cameras in their community. By margins of over 70 percent, residents of Cleveland and Maple Heights, Ohio; Sierra Vista, Arizona; and St. Charles County, Missouri voted to add themselves to the growing list of cities and counties that have outlawed photo ticketing.

Cleveland residents opposed to the use of ticketing worked together over the course of years to circulate petitions and gather the 13,000 signatures needed to put the question to the public.

"After four-and-a-half years we've finally done it," initiative organizer Jason Sonenshein told TheNewspaper. "It's great to have finally accomplished our goal."

With the vote was 77.5 percent in favor of the ban, Sonenshein expressed surprise at how late in the election campaign that Xerox, the city's private camera vendor, began pouring money into saving the lucrative program. Local radio and television advertisements featured former Senator George Voinovich praising cameras on Xerox's behalf. At the end of the night, it turned out not to matter with late results matching the sentiment of the early returns.

Activists in nearby Maple Heights also spent their time and effort with street-corner protests to bring awareness to the ballot initiative, not having the funding for a slick advertising campaign like the camera industry does.

"City hall has violated our right to make our opinions heard," the Maple Heights initiative sponsors wrote. "They refused to listen to input from the public about these cameras. They then cost the city thousands of dollars fighting to stop residents from introducing a ballot initiative to ban the cameras."

By a vote of 76.6 percent, the public approved the ban on cameras.

In St. Charles, Missouri, it was the county council, not a petition, that put the question of a photo ticketing ban on the ballot. County Councilman Joe Brazil came up with the measure as a means of reining in automated ticketing in St. Peters. Len Pagano, the town's mayor, insisted it violates "local control" to allow voters to decide such an issue. They did decide by a margin of 72.6 percent that the cameras should be banned.

In Sierra Vista, Arizona, Redflex employee Cristian Pop provided the pre-election drama by sabotaging the sign of the initiative proponents.

"That's my job," Pop explained to the police officer who asked why he tore down the sign.

Pop admitted to the officer that he tore down the sign because he disagreed with it. Criminal damage charges were postponed until after the election, but the delay ended up not helping save the program, which fell in a vote of 72 percent with all votes tallied.

To date, photo enforcement has been defeated in 31 of 34 election contests (view complete list).