12/14/2014
France: Speed Cameras Spraypainted Again
Black, blue and purple spraypaint disables a trio of speed cameras in France.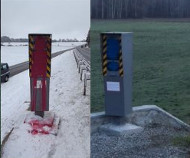 Vigilantes in Epenoy, France disabled a speed camera Thursday morning. According to Plein Air, purple spraypaint was used to cover the camera lenses. This was the fourth time this particular device has been attacked this year.

Blue spraypaint was used on Monday to disable the speed camera in Saint-Etienne le Laus, Dici Radio 90.2 FM reported. In Verdun, black spraypaint and an anarchist symbol kept the speed camera from operating, according to Est Republicain.