1/16/2015
Puerto Rico Dumps Traffic Cameras, Orders Refunds
After just a few months, Puerto Rico cancels automated ticketing machine contract, refunding all citations.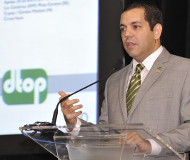 The public in Puerto Rico complained so loudly about the photo enforcement program that the territory's government listened. Red light cameras went up at three intersections in October dealing out $250 tickets for making rolling right turns, speeding or having a recently expired vehicle registration. On Thursday, Governor Alejandro Garcia Padilla (D) had his transportation department refund every ticket issued.

"Since this was a pilot project, as we've always said, it was subject to continuous evaluation," transportation secretary Miguel A. Torres Diaz explained in a statement. "Taking into account the experience of these months and following the guidance of the governor... we decided to cancel the contract without delay."

Haste was important, since the program had not become fully operational. A contract clause allowed the transportation department to cancel the deal without paying the $6 million termination fee at any time before the installation was complete. Transportation officials also insist that the photo ticketing firm failed to deliver on its end of the bargain.

A no-bid contract was awarded to International Traffic Systems, which also operated in Puerto Rico under the name "National Public Safety Consortium." In the United States, this entity goes by the name InsureNet, a company run by Jonathan Miller of Georgia. InsureNet sells automated license plate readers and has unsuccessfully lobbied to have automated cameras issue tickets to drivers whose insurance or registration has lapsed in states like Oklahoma and Illinois.

Miller's deal with Puerto Rican officials raised eyebrows. He would take over ticketing responsibilities in Puerto Rico for the nominal fee of $1. In return, his firm would collect all the revenue and give back a 55 percent cut to the government, an amount that would grow to 70 percent after becoming "fully functional." By November, cameras were issuing tickets at eight intersections. The expectation was that the cameras would soon multiply to fifty intersections in the capital city of San Juan before expanding to cover roads throughout the entire island under the contract that ran until March 30, 2019.

The transportation and public works department (DTOP) will set up a hotline to assist vehicle owners in securing their refunds.