10/20/2016
Former Redflex Chief Sentenced To 14 Months In Prison
Convicted red light camera executive blames culture of corruption at Redflex, implicates Australian executive in stock fraud and bribery.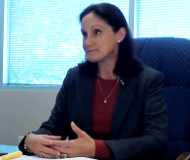 Karen L. Finley will spend at least fourteen months behind bars for her role in a red light camera corruption scheme. That was the sentence handed down on Wednesday by US District Judge Michael H. Watson for the former head of US operations for Redflex Traffic Systems. Finley admitted she conspired to pay bribes to elected officials in Cleveland and Cincinnati, Ohio at the request of Redflex lobbyist John P. Raphael, who began serving his fifteen-month prison sentence in August.

"I knew of the solicitations and agreed, along with Redflex, to provide the campaign funds in exchange for the officials' taking action so Redflex could obtain and retain municipal contracts," Finley wrote in a letter to Judge Watson earlier this month. "Raphael was used as a pass-through to conceal the nature of the money going to Raphael and, ultimately, the elected officials."

In addition to the time at the minimum security federal penitentiary in Phoenix, Arizona, Finley must pay a "special assessment" of $100, spend a year on probation upon release, and turn in any firearms.

Finley began her career in automated ticketing with American Traffic Systems, now American Traffic Solutions (ATS), in 1998. She was responsible for sales and customer relationships until ATS officials decided to sell the business to Redflex in 1999. Finley quickly ascended the corporate ladder at Redflex, taking over as head of US operations in 2005. In 2007, Raphael asked for $70,000 to bribe politicians on invoices that were marked "consulting services" or "success fees."

For her crimes, prosecutors wanted to see Finley spend thirty months in prison, but the judge was persuaded by the pleas for mercy from Finley's legal team, which blamed the culture of corruption at Redflex.

"Karen walked into a position with the company where fraud was already occurring and, as a result, she put herself in a place where she became a party to it," Finley's attorney, Michael D. Kimerer, wrote. "Although Karen might not have known at the time the full extent of her criminal conduct, at a very minimum she acted with willful blindness."

Despite pocketing an annual salary and compensation package of nearly $500,000 during her time at Redflex, she begged the court for mercy because she faced financial hardship.

"Karen notes that to feel good about herself she has to work, but trying to find any kind of employment following her indictment has been next to impossible," Kimerer wrote. "She was able to get a job in the bakery at Fry's Market which paid minimum wage. But once publicity of her case in Chicago hit the newspapers, she was fired."

Federal investigators were willing to go easy on Finley because of her eagerness to testify against co-conspirators, particularly her former boss, Bruce Higgins. As an Australian citizen, Higgins has escaped prosecution in the United States, but he may yet find himself in legal trouble in his own country.

"In April and May 2016, members of the Australian Federal Police requested through the FBI and Ms. Finley's legal team, that she provide a written statement about her employment with Redflex Traffic Systems," Kimerer wrote. "Specifically, the Australian Federal Police wanted information on Mr. Higgins and any information about his role in the bribing of John Bills."

She detailed her complaints about Higgins and the company's alleged efforts in 2004 to make false reports to the Australian Stock Exchange.

"I learned that the construction department had been erroneously reporting that certain systems were completely installed when they were not," Finley wrote. "I told this to Higgins because I believed the erroneous information would skew the company's half-year financial results. But, before I could finish, Higgins cut me off."

Finley may ultimately end up spending more time in jail, as she also faces concurrent sentencing next month for her role in bribing officials in Chicago, Illinois. Chicago's former deputy transportation commissioner was sentenced to a decade in prison, while the man who distributed the checks for Finley was sentenced to six months. Reflecting on her upcoming imprisonment, Finley was left with no good words for the company she once helped run. She says she turned a blind eye to the corruption out of a "misguided sense of loyalty" to Redflex.

"Redflex was a toxic and soul sucking place to work," Finley wrote.