10/4/2017
Buffalo, New York Sued Over Racial Roadblocks
Civil rights groups sue Buffalo, New York to obtain data about roadblocks set up to stop motorists in black neighborhoods.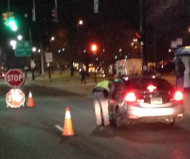 Police in Buffalo, New York have been setting up roadblocks in predominately black neighborhoods, raising the ire of local civil rights groups. On Monday, the Western New York Law Center (WNYLC) and the National Center for Law and Economic Justice (NCLEJ) on Monday sued the city over its refusal to hand over public documents related to the suspicionless search of motorists.

"These checkpoints are directly harming Buffalo's low-income communities of color," WNYLC attorney Keisha Williams said in a statement. "How many people have lost their licenses because they couldn't afford to pay the tickets issued at these checkpoints?"

While the city denies any racial motivation for the roadblocks, there is no dispute that Buffalo's daily crime control roadblocks have generated significant revenue. The "Operation Strikeforce" checkpoints began in 2013, and within two years the number of traffic tickets soared 62 percent from 40,761 to 65,862. In the first two months of the program, the city conducted 67 roadblocks that issued more than 6000 tickets. Ninety-six percent of these checkpoints were located in minority neighborhoods on the East Side.

According to a study by researchers from the University of Texas at Dallas and the State University of New York (SUNY), the effect of the program was "mixed" in terms of its value in reducing crime. An analysis by the State University of Buffalo Law School found that the tickets that were issued had little to do with safety, including a tripling of tinted window citations. During the same period, arrests for drunk driving and other serious moving offenses dropped.

Buffalo's ticketing spree created a 58 percent spike in the number of driver's license suspensions. The resulting increase in impounded vehicles doubled the city's profit from vehicle towing. Earlier this year, the WNYLC and NCLEJ filed a freedom of information request with the city seeking further data on the program, but the city refuses to turn over relevant documents.

"For too long, the Buffalo Police Department has been shielding its checkpoints program from public scrutiny," NCLEJ attorney Claudia Wilner said. "The Buffalo Police Department must search its records and provide responsive documents as soon as possible."