10/31/2017
Motorist Sues After Feds Seize Truck Over Five Bullets
Class action suit goes after US Customs and Border Patrol for seizing automobiles without giving motorists a hearing before a judge.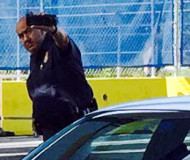 Federal agents grabbed the silver 2014 Ford F-250 truck belonging to Gerardo Serrano and held it for nearly two years on their own authority. Serrano had no drugs, no weapons or contraband of any kind in his vehicle as he passed through a border station in Eagle Pass, Texas on September 21, 2015. Instead, the US Customs and Border Protection (CBP) seized it after they found five rounds of ammunition in the truck.

Serrano, a US citizen, was headed to Mexico to visit his cousin. He irritated the border agents by taking a photo of the border station with his iPhone (see photo). He was ripped out of his truck and handcuffed while the agents demanded the password to his iPhone, which he refused to provide on principle. Meanwhile, another agent searching his truck found five .380 caliber handgun rounds in the truck's center console.

"We got him," the agent shouted.

Serrano did not bring a gun on his trip. He did have a valid concealed carry permit in his home state of Kentucky, which made it legal for him to carry a handgun on his person in Tennessee, Arkansas and Texas -- the states through which he had traveled. He inadvertently left the ammunition in the truck, which might have been a violation of Mexican law had he actually crossed the border. Serrano was still on US soil when the agents confiscated his truck, and he had not violated any law. He was given a piece of paper informing him that the truck was being seized because Serrano attempted to export "munitions of war" from the United States.

Serrano felt the charge was preposterous and he wanted to plead his case before a judge to get his truck back, but he could not do so because the border agents refused to file the paperwork that he could challenge in court. Outraged, Serrano turned to the Institute for Justice for legal help, and the civil rights group filed a federal class action lawsuit in September against CBP. A few weeks later, CBP decided to return the truck, but Serrano is not backing down.

"The government cannot illegally seize and keep someone's property for two years, and then give it back and pretend like no harm was done," Institute for Justice attorney Robert Everett Johnson said in an October 20 statement. "We will continue to fight to see that Gerardo is made whole, and to make sure this never happens again."

Serrano's monetary damages include a $3805 bond he paid to CBP for a hearing that he was never granted, along with the $18,557 in loan payments, insurance premiums and registration fees he made on a truck he was not able to drive. He spent another $3,617 on rental cars.

"I'm thrilled to have my truck back," Serrano said. "But I'd like somebody to apologize for taking it in the first place."

The class action suit goes after CBP for its failure to provide a prompt hearing after cars and other property are seized, in violation of constitutional due process rights. The border agency seizes thousands of automobiles every year.