5/11/2021
Feds Up The Fraud Charges Against Red Light Camera Salesman
Department of Justice levels new charges against Safespeed red light camera salesman accused of public corruption.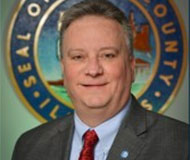 Federal prosecutors on Thursday revealed just how much they have been holding back when presenting charges against individuals accused of participating in the suburban Illinois red light camera bribery scheme. Patrick Doherty, a local government official who sold red light cameras on the side for Safespeed refused to accept a plea deal as others in his position have been doing. In response, the Department of Justice upped the charges.

A 17 page superseding indictment added new details about Doherty's involvement in pressuring an Oak Lawn board member to approve a red light camera expansion. Doherty was to receive a cut of the extra profit generated by any expansion of the existing photo ticketing agreement with Safespeed, so he had a big incentive to convince the board to go along adding more intersection cameras.

According to federal officials, Doherty took $4000 from Safespeed co-founder Omar Maani so he could pass it along to an Oak Lawn trustee's son by giving him a job at his company, PMD Consulting. A new count alleges that Doherty conspired with McCook mayor Jeffrey Tobolski to extort money from a real estate developer in return for McCook's approval of a lucrative deal. Prosecutors say Tobolski took the $3655 bribe from the developer on September 12, 2018, and another $2500 a year later. Doherty explained in a September 5, 2019, phone call that the amount of money McCook would pay the real estate company was "all contingent on what you can give."

Prosecutors then charged Doherty with conspiring with bribing state Senate Transportation Committee chairman Martin Sandoval to "oppose legislation adverse to the interests of the red-light-camera industry" and secure state approval of Safespeed's red light cameras. Sandoval admitted he took the bribes, but he died of Covid-19 complications before he could be sentenced.

Finally, the Internal Revenue Service was called in to increase the pressure on Doherty. The agency says Doherty reported income of $167,331 in 2014; $191,783 in 2015; $225,437 in 2016; $318,265 in 2017; $350,179 in 2018. Thanks to the types of activities described above, however, the agency believes his "total income substantially exceeded that amount."

A status hearing has been scheduled in the hearing for May 19.