3/20/2023
Toilet Treatment For German Speed Camera, More Damage In France, Italy, UK
Toilet thwarts German speed camera, UK photo radar fails to prevent an accident and French and Italian vigilantes continue trashing cameras.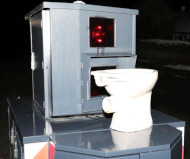 By Richard Diamond/Staff Reports

In Rochdale, England, the speed camera on Edenfield Road, was destroyed Friday after it failed to prevent an accident. The car that struck the automated ticketing device suffered severe damage and its driver was taken to the hospital with serious head injuries.

In Jena, Germany, vigilantes on Friday smeared an unknown substance over the lens of the speed camera on Magdelstieg. Vigilantes in Murnau am Staffelsee thwarted the speed camera on Kohlgruber Strasse by blocking its lens with a used toilet on Saturday, March 11, according to local police reports. Around the same time, the speed camera on Rodheimer Strasse was damaged after being kicked and pelted with beer bottles. Also that morning, the mobile speed camera in Engen was decorated with black spraypaint including phallic graffiti and swastikas.

Vigilantes in Compiegne, France, on Saturday blinded the speed camera on the RN31 with red spraypaint and the message, "No!" The speed camera on the A34 near Pont de Frenois burned on Friday. The speed camera on the RD169 near Lecelles was sabotaged with gray spraypaint. In Bourogne, the turret speed camera on the RN1019 was destroyed by fire on Thursday. The photo radar unit on the E3 Nantes Ring Road near Les Sorinieres was set ablaze on Tuesday. Vigilantes in Port-le-Grand covered the speed camera on the RD40 with yellow spraypaint on Monday, March 13.

In Altamura, Italy, several speed cameras installed were knocked over or otherwise disabled just twenty-four hours after their installation on Tuesday.