7/20/2005
Federal Judge: Videotaping Police Traffic Stops OK
A federal court has ruled police cannot arrest a man for peacefully videotaping a traffic stop.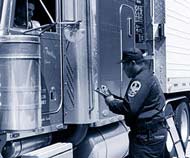 A federal judge ruled Tuesday that Pennsylvania state troopers violated the constitutional rights of a man they arrested for videotaping police while they performed roadside inspections. Allen Robinson, 44, had seen the police stop big-rig trucks on the side of Route 41 in Chester County and believed the safety inspections themselves were creating a traffic hazard. He wanted to document the situation with his camcorder so that he could show it to his state representative. After obtaining the permission of a nearby landowner he peacefully videotaped the officers from twenty feet away in August 2000 and again in October 2002. On both occasions, Robinson was arrested for harassment and convicted by a local judge.

"We are not dealing with a 'close case,'" Judge Harvey Bartle III of the US District Court for the Eastern District of Pennsylvania wrote in overturning the 2002 conviction. "There was no justification for the actions of defendants in violating Robinson's right to free speech and his right to be secure in his person against an unreasonable seizure."

Tuesday's decision also ordered the police to pay $35,000 in compensatory damages. The arresting officers -- Patrick Fetterman, John Rigney, and Gregg Riek -- must also each pay Robinson $2,000 in punitive damages.

"To defendants, Robinson was a gadfly," Judge Bartle concluded. "In their view, he was annoying them. It is fundamental that persons such as Robinson may not be deprived of their constitutional rights simply because they are unpopular or disliked or are resented by the police."

Full decision available below in 147K PDF format.