7/26/2007
US House Votes to Ban Tolls on Pennsylvania Freeway
The US House of Representatives votes to cancel a plan by the Pennsylvania governor to add tolls to Interstate 80.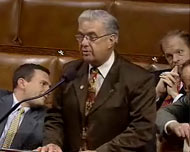 The US House of Representatives approved legislation on Tuesday that would effectively ban the collection of tolls on Pennsylvania's Interstate 80, a rural freeway that cuts through the center of the state. The late-night vote was 268-153 in favor of a $104 billion funding plan for the US Transportation and Housing and Urban Development departments for fiscal year 2008. The bill contained funding limitation language inserted by Representatives John Peterson (R-PA) and Phil English (R-PA).

"None of the funds made available under this act may be used to establish or collect tolls on Interstate 80 in the Commonwealth of Pennsylvania," the Peterson-English amendment stated.

Backed up by his party in the state legislature, Pennsylvania Governor Ed Rendell (D) argues that tolling on I-80 is absolutely necessary to fund road improvements and transportation projects. The Republican congressmen assert that the true goal of the tolling plan is to tax rural motorists and divert their funds into already highly subsidized bus and light rail services in the urban parts of the state.

"We are not going to stand by while Harrisburg raids western Pennsylvania travelers and picks truckers' pockets to prop up Philadelphia's mass transit system," English said.

The appropriations legislation must now be approved by the Senate. The Peterson-English amendment would then have to withstand a challenge in a conference committee called to work out the differences between the House and Senate versions of the funding measures before the tolling ban could become law.

"Tolling I-80 will force traffic off I-80 and onto our local highways, thereby causing increased maintenance costs, congestion and traffic accidents," said Peterson.