5/15/2008
Georgia: Governor Signs Red Light Camera Restrictions
Governor of Georgia enacts legislation requiring cities to prove that they have exhausted alternatives to red light cameras.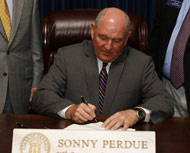 Georgia Governor Sonny Perdue (R) yesterday signed into law a set of restrictions on cities that use red light cameras. Beginning January 1, motorists who receive a photo ticket can avoid paying the fine by sending in a form certifying that they were not behind the wheel when the citation was issued. State Representative Barry Loudermilk (R-Cassville) initially sought to ban automated ticketing outright with his legislation, but he settled for the mild restrictions after powerful city lobbyists lined up to defend their revenue stream.

The new law will also ensure that vehicle owners actually receive the citation before a penalty is imposed. Current law only requires one notice sent by regular mail to the last known address of an owner. Now, a second notice must be sent using certified mail so that there is a record of whether the owner received the ticket before any finding of guilt is made.

Cities with existing camera programs now have until January 1, 2010 to show "demonstrable evidence that there is a genuine safety need" at each of the intersections where automated ticketing machines are in use. Cities must also perform studies using recognized standards to determine whether engineering alternatives would better improve safety at each location. The state Department of Transportation will serve as the final judge on these matters and has the authority to issue or withdraw permission to use cameras and inspect any program at will.

Unlike some states considering "restrictions" on photo enforcement, Georgia law has already authorized its use. For that reason, the new law will force existing programs to actually modify their conduct. In Louisiana, Missouri and Tennessee, lawmakers are touting so-called restrictions on photo ticketing that force no changes on the cities engaged in automated ticketing efforts. Instead, the measures in these states serve as legal authorization for cameras and are designed to expand their use throughout the state.

A copy of the new law is available in an 80k PDF at the source link below.