9/29/2008
Goldman Sachs to Raise Automobile Insurance Rates
Goldman Sachs investment in speed cameras will raise profits for insurance giant Geico.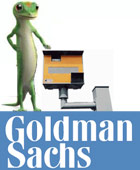 Wall Street investment giant Goldman Sachs will boost profits by increasing insurance rates on motorists. The troubled firm last week poured millions into American Traffic Solutions (ATS), a company that operates turnkey red light camera and speed camera programs for municipalities in return for a substantial cut of the revenue generated. At the same time, Berkshire Hathaway, the parent company of insurance giant Geico, poured $5 billion into Goldman Sachs.

"Cash-strapped cities are finding it more and more difficult to deploy adequate police resources to fight serious crime," ATS CEO Jim Tuton said in a statement announcing the investment. "We help cities improve public safety by providing solutions that also generate needed revenue by shifting the financial burden from the taxpayers to the violators."

Thanks to increased municipal demand, ATS saw a near-doubling in the number of clients last year, stretching the company's resources and ability to install new cameras. The cash infusion from Goldman Sachs will bankroll an accelerated deployment of photo ticketing programs around the country.

The new Goldman Sachs-backed speed cameras, in turn, will benefit Geico in the states that impose license points on automated citations. In Arizona, for example, Geico is the state's third largest automobile insurance provider. Each time a camera operated by ATS issues a speed camera or red light camera ticket in Phoenix, Scottsdale, Tuscon, Mesa, Glendale or Avondale, that driver's insurance rates will increase. That means ticket recipients who happen to be Geico customers will pay millions in increased insurance premiums. Likewise, Geico collected $541 million in automobile insurance premiums in California last year. That already sizable sum jumps each time a customer gets a red light camera ticket in San Diego, Covina, Capitola, or Millbrae. This, in turn, boosts profits for Berkshire Hathaway and company CEO Warren Buffett.

"We are pleased that given our longstanding relationship, Warren Buffett, arguably the world's most admired and successful investor, has decided to make such a significant investment in Goldman Sachs," Goldman CEO Lloyd C. Blankfein explained.

It is likely that Goldman's deal with ATS and Buffett's deal with Goldman each proceeded separately, motivated primarily by perceived profit potential for the individual deals. As a privately held company, ATS does not report income. Its main competitor, Redflex, which holds an equivalent market share, reported a 44.4 percent increase in net profit over last year. Redflex also predicted annual revenue from photo enforcement could reach $14.2 billion with 70,000 cameras spread nationwide at a density level similar to what motorists in the UK face today.

Geico, however, has a long-standing interest in funding ticketing technologies. In 1991, a cash infusion from Geico saved Laser Technology Inc. (LTI) from bankruptcy. In return, LTI shipped laser speed guns to Geico so that the insurance firm could freely distribute them to law enforcement, boosting the number of traffic citations issued. Unlike the handheld LTI 20-20 speed gun, however, the new Goldman Sachs-funded speed cameras are capable of issuing hundreds of citations per hour.