10/8/2008
Third Largest California City May Reject Red Light Cameras
Police in San Jose, California urge the city council to drop plans for red light cameras over safety and manpower concerns.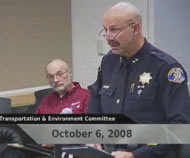 Police in San Jose, California want nothing to do with red light cameras. Department officials made their views known at a city council transportation committee meeting on Monday where members were urged to drop plans to install traffic cameras in the heart of California's Silicon Valley because of the potentially negative impact on public safety.

"Studies reveal an awful lot of ambiguity and dissonance," Deputy Chief Donald Anders explained. "Some jurisdictions have noted a reduction in their traffic accident rate. Other jurisdictions have noted an actual increase in their traffic accident rate. The reason for that increase primarily seems to be rear end accidents. As people become more aware of a red light running program, a more vigilant attempt to try to ensure compliance with the law has actually resulted in an increase in vehicle accidents."

A number of independent studies have come to a similar conclusion (view studies). The department, moreover, is no stranger to photo enforcement. It worked with Australia's Redflex to issue photo radar tickets between 1996 and 2007, continuing efforts despite a 2000 state law that had outlawed the practice. After a successful Santa Clara County Court challenge to the program's legality, the city council finally dropped it.

To determine whether red light cameras might be beneficial, San Jose police conducted a special 39-week evaluation of traditional enforcement efforts. A total of forty-one officers were divided into zones containing areas with the highest accident rates and were directed to conduct a highly visible intersection ticketing blitz. The rate of accidents attributed to red light running during working hours -- when ticketing patrols were active -- was found to be 0.6 crashes per week. On evenings and weekends the rate was 0.3 crashes per week, consistent with lower traffic volumes.

"By national standards, our injury crash rate is approximately fifty-percent of the rest of the country -- an indication that with the limited staff we have in traffic enforcement that we're actually being quite effective and efficient with our efforts as they stand," Anders said. "Certainly (there is) always an opportunity to do better."

Police Chief Robert L. Davis filed a written report to emphasize that implementing a red light camera program would require diverting officers away from crime-fighting duties into a laborious vendor selection effort with all of the contracting paperwork needed to document the process. Once such a program was operational, Davis indicated he would have no choice but to divert Special Enforcement Team officers away from duties such as conducting DUI roadblocks to spend on the citation review process.

The deputy chief said Monday that he would rather have more human resources placed in public safety roles beyond just traffic enforcement. He also noted that the traffic division has already been doing its part to meet the city council's goals, increasing the total number of traffic citations issued by a third to 36,651 last year. Money could be better spent buying more of the new electronic citation-writing equipment that had dramatically boosted productivity, Anders said. The force also expects to add three more officers to ticket-writing duties by January 2009.

Despite the three-year decline in the city's traffic accident rates and the boost in ticketing, Councilman Sam Liccardo was not ready to give up on what he called the potential for "cost savings" from red light cameras. He asked the department to conduct another report, this time focusing on the experience of nearby cities with active red light camera programs. The committee will discuss the report at the next meeting following the report's completion.