12/17/2008
Toll Road Values Plunge
Macquarie Bank announces its toll road portfolio lost a quarter of its value in six months.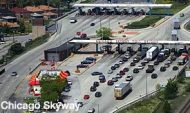 One of the world's largest toll road operators admitted for the first time a fundamental weakness in the public-private partnership model it championed. Australia's Macquarie Bank yesterday admitted the toll road portfolio of the company's infrastructure group is worth 25 percent less today than it was worth as recently as July. Macquarie runs the the South Bay Expressway in California, the Dulles Greenway in Virginia, the Chicago Skyway in Illinois and the Indiana Toll Road in addition to a number of other toll roads in Europe and Australia.

"This outcome has been affected by changes to asset discount rates reflecting the current market environment, lower forecast traffic volumes driven by the recessionary environment in the Northern Hemisphere, higher assumed financing costs across the portfolio, and the impact of macroeconomic factors such as long term inflationary expectations and foreign exchange rates," the company explained in a statement.

Macquarie's 2008 Annual Report, released at the end of June, stated the company's eleven toll roads were worth a total of A$8.6 billion. The company's calculation of this value is defined as, "in today's terms the cash the toll road is expected to generate over the life of the concession (the period over which the right to levy tolls is given)." As of yesterday, that total value had slumped to just A$6.5 billion.

For several years, tolling advocates had pointed to Macquarie as the model of success. So many executives became rich at the company that it even became known as a "millionaire factory." With easy credit and cheap financing the company was able to create the appearance of growth through continual acquisition of public assets. Now the severe tightening of the credit market over the past year has removed that option. The company faces traffic slumps of between three and twenty-three percent, depending on the road.

"The subdued traffic results across Macquarie Infrastructure Group's portfolio were a consequence of the slowing global economy and a combination of other factors including higher petrol prices, adverse weather conditions in Toronto, improvements to free road alternatives," the company stated.

The response has been to raise toll severely. As of January 1, 2009, motorists on the Greenway will pay 33 percent more to travel to and from work each day as a result of a toll hike labeled, "congestion management pricing." Other toll hikes across the network beyond the rate of inflation ensured an operating revenue growth of 3 percent. Despite reporting A$10.3 billion in debt, backed by just A$6.5 billion in assets, the company announced a 10 cent dividend for shareholders funded by this debt.