2/20/2009
Study Shows Right Turn on Red Crashes are Rare
The most common type of photo ticket issued for a practice that rarely causes accidents.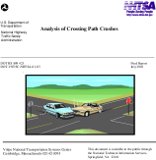 Red light camera supporters insist that the devices are needed to prevent the common and deadly T-bone style of accident at intersections. In practice, however, automated ticketing lenses are more often positioned to photograph a different type of violation, one that rarely causes accidents. A review of US Department of Transportation statistics shows that an average motorist could drive a billion miles -- the distance from Earth to Jupiter and back -- before being involved in an accident that resulted from a motorist making a rolling stop on a right-hand turn.

Despite the rarity of such incidents, municipalities like Schaumburg, Illinois have used red light cameras to generated more than $1 million from right-on-red tickets. Of the 10,000 photo tickets issued since November, only about 200 involved the straight-through type of violation used to justify the devices. Likewise, Duncanville, Texas with a population of 38,500 used a set of four cameras last year to generate 44,000 tickets worth $3.3 million. The private contractor in charge of the ticketing program defines a "violation" as passing the stop bar painted on the pavement at any speed greater than 2 MPH. Because of the design of the monitored intersections, motorists often must pull into the crosswalk past the stop bar to see cross traffic before initiating a turn. That means even when motorists fully stop before turning, they can be mailed a ticket.

Such a strict attitude appears out of proportion to the danger posed by right-turn accidents. The 2001 National Highway Transportation Safety Administration report entitled "Analysis of Crossing Path Crashes" examined 1998 data from the General Estimates System (GES) and Fatality Analysis Reporting System (FARS) accident databases to conclude that of about 6.33 million crashes that year, about 1.72 million involved one vehicle cutting into the path of another. Of this amount, only 5.7 percent or 99,000 were classified as right-turn into path (RTIP) crashes, the least common type (Table 3-1). The category still included incidents unrelated to what might happen at an intersection, such as accidents that happened while making a right-hand turn out of a driveway or alley.

The number of right-turn accidents shrunk further to just 20,000 when narrowed to collisions taking place at intersections with traffic lights (Table 3-2). Of these, only 4.1 percent, or 2378, were caused by the violation of the traffic signal (Table 4-1).

Cities often justify these ticketing methods by saying they are protecting pedestrians and cyclists, but these numbers are small as well.

"The majority of fatalities did not occur at or near intersections," the report stated.

Of the small number of fatalities that did happen at an intersection, only 10.9 percent happened during a right turn (Table 5-5). Such accidents were forty times less likely to occur than a collision with another automobile. The text of the 2001 report is available in a 700k PDF file at the source link below. View more red light camera accident studies.