10/24/2009
New York Officials Make School Bus Camera Sales Pitch
School districts in New York lobby the legislature to allow the mounting of automated ticketing cameras on every school bus.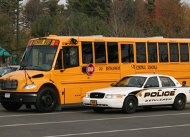 The New York Association for Pupil Transportation is desperate to get its hands on automated ticketing cameras that promise to generate thousands in new revenue. On Thursday the group held a press event to showcase to state lawmakers how much money could be generated with passage of legislation authorizing school bus ticket cameras. A private company equipped a trio of school buses with automated ticketing equipment in the Bethlehem Central, Canandaigua City and Brewster Central School Districts. Over the course of forty days the machines recorded 46 possible citations that would be mailed to the owners of vehicles that allegedly passed the school bus while stopped. The state has thousands of school buses in its fleet.

"License plate reader technology makes it possible to hold those who disregard the law accountable for their reckless behavior," Department of Motor Vehicles Commissioner David J. Swarts said.

Had the drivers been held accountable by fines of $400 each, the program would have generated $18,400 with just one bus in each of the three districts. No actual citations were issued because state law currently does not allow cameras on school buses to generate actual citations. Elsag, a company formerly associated with gunmaker Remington, attached a MPH-900 Automated License Plate Recognition (ALPR) camera to the bus to record and identify all passing vehicles. Project funding came from gasoline tax money diverted from road building through the Governor's Traffic Safety Committee in the form of a $77,260 "safety grant."

The current penalty for passing a school bus in New York is a fine of $400 for a first offense with five license points and the possibility of thirty days in jail. The fine can rise to $1000 for multiple tickets issued within three years. In April, Assemblyman Peter M. Rivera (D-Bronx) introduced A.7778, a bill to authorize the photographic ticketing program sought by the school districts.