11/28/2009
Photo Radar Companies Squabble in Court
An federal judge in August issued an order for a lawsuit between rival photo radar companies to proceed.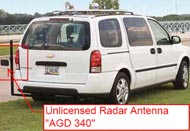 A federal judge in August refused to dismiss a lawsuit filed by American Traffic Solutions (ATS) against its Australian rival, Redflex Traffic Systems. The two photo enforcement companies have been locked in a battle over the statewide speed camera contract that the Arizona Department of Public Safety (DPS) awarded to Redflex last year.

ATS argued that Redflex only won the contract by lying in bid proposals, particularly regarding the use of radar units not certified by the Federal Communications Commission or International Association of Chiefs of Police. ATS argued that this amounted to false advertising in violation of the Lanham Act. US District Court Judge Frederick J. Martone ruled that the charge appeared to have enough merit to proceed.

"Defendants argue that the 2007 and 2008 bid proposals cannot serve as the basis for a false advertising claim because they did not contain any false representations," Martone wrote in his ruling. "We disagree. Defendants' bid proposals included several representations that Redflex would provide 'IACP approved speed enforcement solutions,' and use 'full IACP certified speed measurement devices.' A dispute remains as to whether these representations were false and meet the other requirements of a Lanham Act violation."

Redflex also attempted to dismiss the lawsuit by saying DPS did not care which specific radar units were used in the program because the agency was outsourcing every aspect of ticketing to Redflex. The court did not buy that argument and allowed the suit to proceed.

"Although DPS did not purchase photo enforcement units, DPS may have had an interest in ensuring that the devices used for its program complied with relevant laws and regulations," Martone wrote. "We cannot, therefore, resolve this issue on the pleadings alone."

A copy of the judge's August order is available from the source link below.