4/15/2010
Anaheim, California To Hold Anti-Traffic Camera Referendum
Mayor and council will send red light camera ban to voters.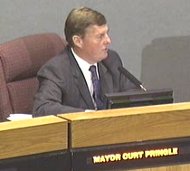 Voters in California's tenth largest city will have an opportunity to ban red light cameras in November. On Tuesday, the Anaheim City Council unanimously endorsed the idea of placing a charter amendment on the ballot that, if approved by the public, would ensure that automated ticketing machines never appear on city streets. Mayor Curt Pringle, a former speaker of the California State Assembly, offered the measure even though his city has never used cameras.

"I believe there's enough evidence now that demonstrates that red light cameras do not necessarily cause safer intersections," Pringle explained. "I believe many red light cameras that are placed around this county or around the state are done for the purpose of local government's revenue collection as opposed to traffic safety... I am very disappointed when government thinks its sole purpose is to raise revenue and use public safety as a revenue raising tool as opposed to using public safety as the first requirement of the city."

Pringle explained that although he has never received a red light camera ticket, he did receive a notice of infraction in the mail forwarded by a rental car company because he had inadvertently strayed into a bus lane in London. Troubled by the expansion in government power this represented, Pringle did not want the devices to spread to the city in the future.

"I do think that we have to be very cautious about what these cameras can be used for," Pringle said. "When proposals go through the state legislature to use existing cameras for other means of collecting revenue such as speeding enforcement and other purposes I think it really does challenge what we're doing here in a government institution."

Pringle's colleagues were enthusiastic about the ballot measure.

"I wholeheartedly support that proposal given what I know about red light cameras and how they have come about and how the whole process works," Councilman Bob Hernandez said. "It is somewhat distasteful to me the way that program is instituted in so many communities and the fact that there's no real hard evidence to show that it provides any kind of improvement in traffic safety. Quite the contrary."

Councilman Harry Sidhu complained about getting a $465 ticket for slowly and safely turning right at a red light. Councilman Lucille Kring added that charging "a big chunk of change" for such a minor infraction was outrageous.

Anaheim's move followed news that the city of San Carlos has dropped the use of red light cameras after lengthening the duration of the yellow light at intersections had nearly eliminated violations. Once on the ballot, no photo enforcement program has ever survived a public vote.

Article Excerpt:

Proposed Charter Amendment re Red Light Cameras
That Section 1213 be and the same is hereby, added to the Anaheim City Charter to read as follows:
Section 1213 Prohibition of Automated Traffic Enforcement Systems.
Notwithstanding the provisions of California Vehicle Code Section 21455.5, or any successor legislation, no limit line, intersection or place designated in California Vehicle Code Section 21455, or any successor legislation, within the jurisdictional limits of the City of Anaheim where a driver is required to stop, shall be equipped with an automated traffic enforcement system, commonly known as a red light camera.